Happy Fall Cougars! On September 2nd, the Center for Sustainable Development hosted its annual SustainFEST event. The CSD was excited to welcome students back into the Cistern to visit, learn more about sustainability on campus, listen to several artists, hear speakers from around the community, and peruse a mini-farmers market at SustainFEST 2021. 
Speakers included Omar Muhammad, the Executive Director for the Lowcountry Alliance for Model Communities; Stuart Williams, the Impact Entrepreneur in Residence at CofC, Charissa Owens, Director of Diversity Education and Training at CofC, Ragina Scott Saunders, founder, and owner of Destiny Community Cafe, and Brett Baker, Charleston-based hip hop artist. The Director of the Sustainability Literacy Institute and QEP, Dr. Todd Levasseur introduced each speaker and they all interacted with students and members of the community listening from tables set up around the Cistern, expressing their ideas about and suggestions for sustainable communities. 
In addition to the thought-provoking speakers at SustainFEST, DJ Collective Disparity and SYLLOETT performed for those in attendance. While the over 500 attendees listened to the music, they were able to talk to representatives from dining services, use dining dollars to snag fresh produce, plant basil seeds with The Sustainability Institute, and visit other tables throughout the event. Hungry? Two local food trucks, Roti Rolls and DASHI, who support local vendors and farms, were working hard to serve various options for the duration of the event. 
The first one hundred and fifty students came home with free SustainFEST shirts, and lots of information, music, and laughter were shared between guests. The Center for Sustainable Development broke down the recycling and compost stations from around the Cistern and started getting excited about next year's SustainFEST. We have also begun planning new ways to continue engaging with all of the wonderful people who showed an interest in learning more about sustainability on campus and in our community.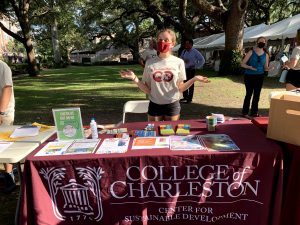 An easy way to stay in the loop about sustainability-related events and projects is by following us on Instagram @SustainCofC or visiting our website, sustainability.cofc.edu. Thank you to those who participated in and came out to SustainFEST. If you didn't get the chance to join us, we hope you'll come by and say hello or join us for our next event.
Photos by the College of Charleston