Author: Tana'ya Dawson
Congratulations on making it to the end of the semester CofC Cougars! The Center for Sustainable Development (CSD) has had an exciting month by far celebrating Sustain Week with events like our Social Justice Walk, Sustainable Cities Expo, MESSA Adopt-A-Highway, and more!
As the Spring Semester comes to an end, it is important to take a break from studying for exams. Whether you decide to go outside or just take a nap we highly recommend looking at our Charleston Social Justice Sites Tour!
This tour was brought together by those of us at the CSD in partnership with the Black Student Union (BSU) & the Avery Center as well as CofC Professors, Dr. Barry Stiefel & Dr. Annette Watson.
Included within our tour information we have a Google Map that navigates you through the tour as well as verbiage on each of the sites. The sites included in this tour are close to campus and for those that are not we still managed to not only provide information but to provide sources as well. So even if you don't feel like leaving your bed, you can still learn a little history about the campus and the rest of Charleston as well.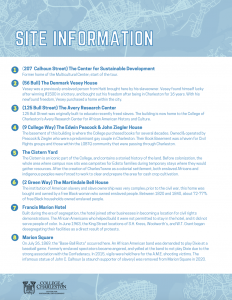 Locations on our sites pay homage to different religions as well as important historical places for the Black, Brown, and LGBTQ+ communities.
We wish you the best on your finals and hope that you enjoy the last few days of your semester. Have a good summer Cougars you deserve it!