Author: Rachel Seney
1. Dispose of hazardous materials in an eco-friendly manner.
After seven move-outs in 4 ½ years, I can safely say that things break, every time. Make sure to dispose of hazardous materials (glass, oil, latex, etc.) at a hazardous waste disposal. Throwing these types of items away has detrimental consequences on our ecosystem and environment. There are bins located on the first-floor porch of the CSD categorized based upon product type and/or break-down.  
2. Use alternatives to plastic covers and bags.
Get rid of the big, black plastic trash bags, Cougars! Save boxes from past moves, or drive to any Walmart (the one on Folly is my go-to). They keep used boxes that they want their customers to take and re-use in the back of their building! 
If you don't have a car, check out the library or CSD for old boxes you can borrow or use!
3. Donate! 
We always come across items we don't want or feel like we need any more along the move-out process. Make sure to donate! This year we've teamed up with Goodwill, Closet Case Thrift Store, and the Lowcountry Food Bank to donate non-broken, non-perishable items.
There is a textile recycling bin behind Addlestone where you can drop off any clothes that may be stained but have some life left. As of April 19th, be on the lookout for large blue bins for donatable materials, including: 
Housewares

: Dishware, lamps, rugs, pillows, etc. 

Clothing

: Shoes, pants, jackets, tops, jewelry, handbags, etc.

Non-perishable food items:

Unopened, shelf-stable food items

Toiletries

: Unopened, unused toiletries 
4. Use biodegradable packing materials!
Order biodegradable packaging peanuts and corrugated bubble wrap on Amazon! They're cheap and break down easier. Also, try using old tee shirts or recycled fabrics to wrap up and protect your belongings; there's no need to use newspaper!
5. Be mindful when recycling!
Put a recycling bin in the corner of your house while moving out; it's an easy change and makes a huge difference. Your plastics, cardboards, and glasses deserve another life!
Cover photo by Julia M Cameron from Pexels
About the author: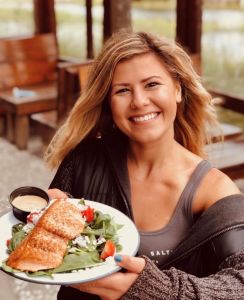 Rachel is a junior at the College of Charleston majoring in communications. She is originally from Olney, Maryland. Rachel is interested in working in the Public Relations field after graduation. She loves golden retrievers and her cat, Sir. When she is not in classes or working for the Center, she enjoys spending time biking and going to the beach with friends and family!