by Sophie Beyer
My family relocated to South Carolina, conveniently, two months into my first semester at the College of Charleston. Moving to the Southeast had always been their plan and they often encouraged my sister (then a junior at The College) and I, to attend school here. My mom, a VA employee easily transitioned to the city, and my dad, a disabled Coast Guard veteran, perhaps finally came home. My dad has been struggling with an aggressive and rare autoimmune disease that causes intense Rheumatoid Arthritis, chronic pain, heart failure and a list of potential surgeries, my whole life. After about a year living on James Island, my parents signed up for a surf camp on Saturdays with an organization called Warrior Surf Foundation. Warrior Surf is a non-profit veteran group that provides free surf camps to promote physical and mental health for veterans and their families.
Military men and women have been molded in a very specific way. Whether they enlisted 40 years ago, recently separated, or are still active, they have a lot of things in common. The military gives you a family, a brotherhood. It develops an unbreakable bond that is necessary in war times, and otherwise. Veterans who once had a community and circle that was undeniably accepting, return home as civilians, not always feeling capable to connect with the communities around them. What most people forget about when thinking about veterans, is how much they lose once their time in the military is over. WSF has become a safe space for so many of these men and women who have returned or relocated to the Charleston area.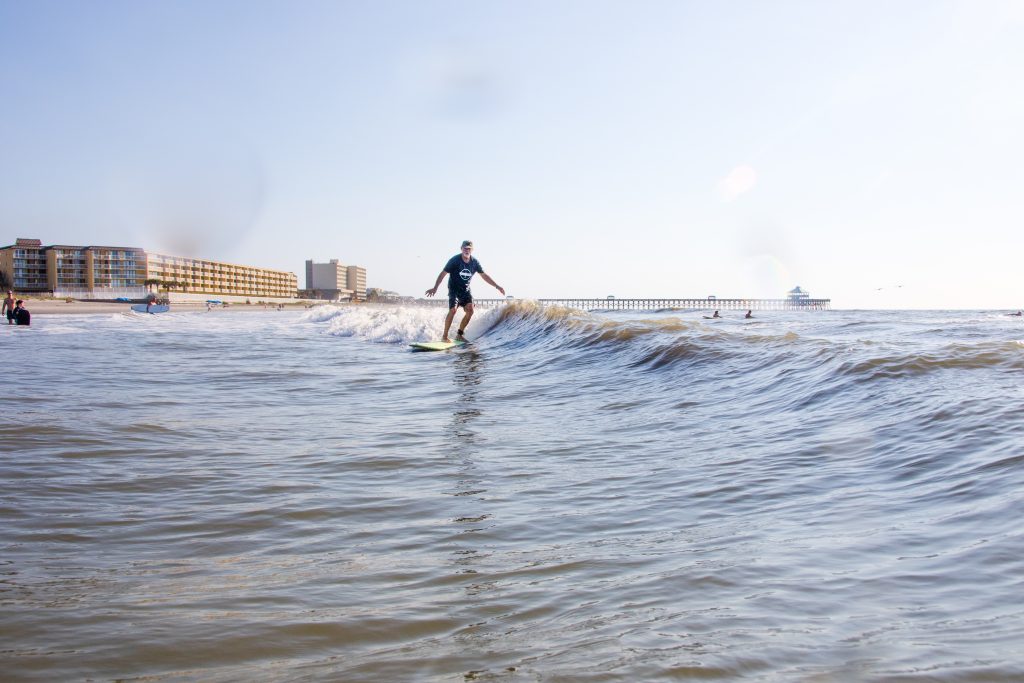 WSF offers surf therapy where veterans and their families get in the water with a board and an instructor and discover the healing factors of the ocean. Surfing is an excellent way to deal with PTSD, depression, loneliness and other difficult mental states. Surfing gets you into the water and gives you an attainable goal. Like entering your yoga mat, surfing entails that you leave something at the beach. Your cell phones, your problems, the war you engaged in, you drop that all on the sand for a few hours, or even just a few moments. We are blessed on Folly Beach with having such warm and soft waves that are ideal for teaching all ranges of surfers, sans wetsuits. Surfing on Folly is accessible for the six-year-old kids just learning how to swim, the easily embarrassed and possibly wounded military men, and my 54-year old mom who always jumps on a board when the water is warm. These Saturday sessions allow adults to go to camp again. While there are formal wellness meetings and a therapist on the beach available to work things out, the atmosphere is whatever you want to make of it.
The founder, Andy, who recently was nominated as a top ten CNN Hero, is part of why it is so successful. A north-eastern transplant who served multiple tours in Iraq is your average young, blonde, surfer dude who rides a motorcycle and who you nod to in the lineup; until you talk to him about Warrior Surf. What I mean by this is that he is not this "enlightened save-the-world-type guy", he is actually pretty reserved. He created this organization to get vets in the community together and to share the healing powers of surfing that he was discovering himself. On the surface, what you gain from a five-week surfing camp is: how to pop up on the board, how to read a wave, and maybe some strategies for how to clear your head, how to turn to the ocean. What the website doesn't include is the twenty plus people who will be on the same beach every single Saturday morning, welcoming you, watching your children, giving you surfing tips, and inviting you into their community. There's no strict requirements in this club, it's as public as the beach. If you are there we will embrace you, if you miss a week we will wonder where you've been. If you just don't feel like talking or your messy mind and your achy bones are acting up that day, no one questions. The kids will still show you their shark tooth find, someone will still ask you if you're going to the oyster roast next Tuesday, and we move on. This is a community that knows pain. It knows loss and it knows broken families. It accepts it all, no questions asked. In fact, it does more than accepts it, it spends holidays together, and visits hospitals together, and most importantly, it is always open to expansion.
The Warrior Surf Organization has taught some remarkable lessons. Most importantly, it has taught me how important community is. Finding people who "get you" isn't all that hard, but damn is it special. For years growing up, my dad was a dad. He adored this role in my sister and my lives, but he never seemed to expand more than that. Going from this extremely active young man, to becoming chronically ill in his late 20s, my dad's life did a 180. As a rescue swimmer Coastie, he always had a connection with the ocean, teaching me to swim and surf at a very young age but perhaps was never warmly welcomed into any type of surfing community during my childhood, honestly not really any kind of community. My parents are very social beings but it's as if they always had to minimize their pain. There were never fun spaces where you could easily throw around that experience in Afghanistan, or compare stories on recent VA visits, they always found themselves only reaching surface level. This is another place where Warrior Surf transcends. It accepts life's problems (military related or not) with ease. Like I said before, we are comfortable with pain, comfortable with broken.