Authors: Isabel Crews and Hanna Giblin
During the summer of 2021, we worked with Marla Robertson and Alec Maruki to create and co-lead a three-part Anti-Racism Training Workshop for staff and interns at the Center for Sustainable Development. 
Session 1:
The first Anti-Racism Workshop addressed a lot of the key terms necessary for discussing anti-racism and racism in general. We started with defining the different systems of oppression: Individual/internalized (personal beliefs); Interpersonal (beliefs visited on others); Institutional (shows up in policies and procedures), and Structural (when the institutions work together). 
Each of these is critical to understanding how systems of oppression show up in our world. We explained these systems of oppression as they apply to people of color and members of the LGBTQ+ community, but focused more on how it specifically applies to the black community. 
These systems of oppression show up when someone associates higher crime rates with communities of color, a racist joke is made, when nude makeup and stockings are one color only, or when neighborhoods are "red lined" so that POC cannot get loans or buy houses in certain historically white neighborhoods. These are only a few of the examples we brought up during the workshop, and the interns and staff participating in the workshop had their own examples and experiences to share as well. 
Session 2:
During the second workshop, "What It Means to be Anti-Racist," Marla Robertson, broke down exactly what anti-racism is and how it shows up at the individual and interpersonal levels. 
Robertson explained that, "Anti-racism is the deliberate action of combating how things currently exist. Because the US has innately ingrained racism in mostly all components of the country, to be an antiracist in your behaviors requires constant actions that consistently question and interrogate how we are and how things are. We want to move that process to action, where we collaborative build revised or new institutions that are not anti-racist as well. Eventually, we will move from being anti-racist to being pro fill-in-the-blank." 
We made the distinction between education and awareness, and taking "deliberate action" to eradicate racism.  
Session 3: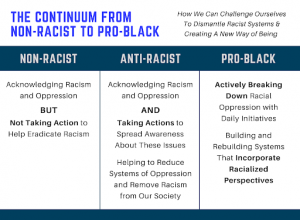 We concluded with a third and final session on "The Continuum from Non-Racist to Pro-Black". The continuum describes an individual's actions and behaviors and how they relate to racism. We explained this through three main categories, being Non-Racist, Anti-Racist, or Pro-Black. From there, we discussed examples of individual, interpersonal, and institutional behaviors that would reflect each category of the continuum. For example, on an individual level, someone working to educate oneself on racial oppression would be practicing non-racist behavior. A step above that, anti-racist behavior would include interrogating the ways you exist and what you have been taugh, challenging your perspective. Being pro-black could include actively changing your perspective and the way you exist to be actively against racism. 
Check out our chart for additional details on what Non-Racist, Anti-Racist, and Pro-Black ways of being look like!
Some of the Big Takeaways & Benefits of the Program: 
We have both worked as interns at the Center for Sustainable Development for multiple semesters, so we have had the opportunity to both participate in, and lead these anti-racism trainings. 
Active participation, our 'call in' rather than 'call out' perspective, and the casual discussion approach truly made these sessions comfortable and highly educational. We were able to educate ourselves on these issues in a supportive and judgment-free space.

Having three sessions of this training allowed us to break down the issues of racial oppression starting from the 'ground-up.'

Dismantling internalized racism is a challenge we all face. Racism has deeply impacted all aspects of American society. Whether or not we are aware of it, we have been exposed to racially oppressive attitudes, behaviors, and policies. The workshop helped us recognize unconscious biases and work to relearn how to be an advocate and actively work against racism. 

As co-leaders for the workshop, we had a unique opportunity for education and professional development. We helped session leaders and our participating CSD team to become more educated on how to approach these challenging issues and how to feel more comfortable and confident during the process.
The Calling in Vs. Calling Out lesson [valuable for everyone to know] 
Personal & Professional Benefits
As interns working in sustainability our passions lie in improving our systems, working collaboratively, and building a more equitable and diverse future. Not only does training like this teach us valuable lessons for our personal lives but they also prepare us to take these learned skills and language and integrate them into our work. 
Workshop Leaders:
Marla Robertson – College of Charleston (cofc.edu)
Affiliated Offices: 
The Center for Sustainable Development (CSD) 
"A collection of students, staff, and faculty who are concerned about and invested in addressing the many problems that plague today's society. Collectively, we focus on applied research, experiential learning, operational management, and public engagement – on campus and in the greater Charleston community.
We invite students to get involved. In fact, students at the College are the Center's greatest resource. They regularly lead the charge in addressing issues of social, environmental, and economic justice."
Office of Institutional Diversity (OID)
"OID is committed to supporting the College of Charleston in leading pathways to equity and inclusion for URM Faculty, Staff, and Students, to create equity in learning and living as part of the CofC community and beyond."
Cover photo by Matheus Viana from Pexels