Author: Isabel Crews
March is Women's History Month, and it is a time when we should reflect on women's contributions throughout history. Data points are clear that empowering women is critical to achieving sustainability goals in social, environmental, and economic systems, helping to answer the question, "Why should we invest in women?"  An important follow-up question, though, is how do we do that while also dismantling structural inequalities that unfairly and disproportionately impact women and genderqueer people? In this article, I look at possible answers and begin by interviewing Dr. Kris De Welde, the Director and Professor of Women's and Gender Studies at the College of Charleston. CofC's WGS program is an interdisciplinary program with faculty across campus teaching various WGS courses.
How are women affected by environmental sustainability? 
When I asked Dr. De Welde about women's relationship with sustainability, she said we should first consider the basics of environmental sustainability. She stated that "Women are the first to deal with the impacts of environmental change and climate change." Climate change disproportionately affects women, and Dr. De Welde pointed out that this includes reproductive health. As the climate and environment become more toxic, women, and more specifically people who menstruate and people who can be pregnant, are the first to experience the direct effects. 
How are issues for women, girls, members of the LGBTQ+ community, and non-binary folx related to sustainability?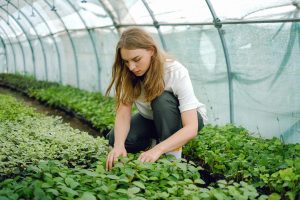 Dr. De Welde said that "The concerns related to justice and injustice for these populations are intimately tied to issues of sustainability." She pointed out how the vast majority of farmers in the world are women. The self-sufficiency of women and families is economically dependent and relies on sustainable economies and development. She also emphasized the importance of taking "an intersectional lens when thinking about not just gender, but how gender interacts with race and racism, and sexuality, and homophobia, and transphobia." Dr. De Welde mentioned our local Fresh Future Farms as just one example of Black women in agriculture who are creating sustainable solutions. 
Why should we invest in women?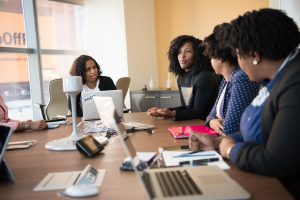 Understandably, when I asked this question, Dr. De Welde let out a sigh of frustration. After all, why should we still have to continuously explain why people should invest in women, and more importantly, women of all races, ethnicities, sexualities, and abilities? Dr. De Welde said that one of the main reasons we should invest in women is because research has shown that "when women are in leadership roles, whether that is for a particular organization or a company, the financial outcomes are often better and the working conditions are often more equitable." 
However, during our conversation, she described the glass cliff phenomenon. The glass cliff phenomenon is when women are put into leadership roles during crises, setting them up for failure. Despite this, Dr. De Welde argues that women are still thriving in leadership roles. For example, in research groups diverse in race and nationality, she states that they "produce research that has a bigger impact on the field, and we know this from the increased citations, patents, and references to this research." During our conversation, she stressed that there is a lot of evidence for why women in leadership can benefit everyone because of their/our lived experiences. 
I want to end this section with Dr. De Welde's final comments on why we should invest in women. She states that "Women in leadership roles and women being invested in results in more sustainable communities, more sustainable business practices, in more equitable and just working conditions. And all of that makes for stronger families, healthier families, and all of the things we in the United States profess to care about." Following this statement, we also discussed how women do not always act in solidarity with the people they share identities with, so their orientation to social justice and equity is equally important to note when talking about women in leadership roles being beneficial for everyone. 
"Sustainability in the COVID Context"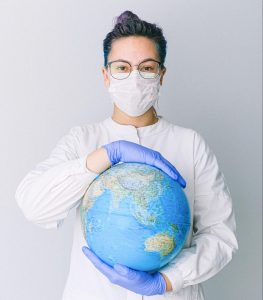 Dr. De Welde lamented that during the pandemic, it is evident that "we cannot have sustainable cities and communities if you can't sustain yourself." She also commented on how COVID-19 is making the cracks in our healthcare, education, food systems, and labor conditions even more apparent. Dr. De Welde says that COVID-19 points out the glaring issues that need to be addressed to build sustainable families, communities, and cities. Again, she brings it back to women. She says that women are "bearing the brunt" of these cracks, and COVID may erase women's gains in the workforce over the past thirty years. 
The message is clear:
We should invest in women.

We need to look through an intersectional lens when discussing issues of sustainability.

We must seek solutions.

We can be resilient despite the 21st-century sustainability challenges we are facing, and empowering women is central to solving these challenges.
About the author: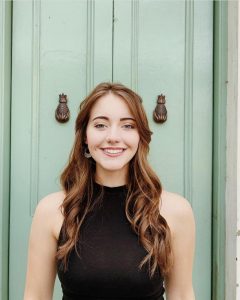 Isabel Crews is studying International Studies, French, and Communication at the College. Her endeavors with Zero Waste at her high school and her passion for sustainability led her to the Center for Sustainable Development. She volunteered as a Bonner Leader Assistant and later took the Editorial Content Intern role during the Summer of 2020. As the current Editorial Content Intern, she hopes to continue learning about sustainability and coordinating events to educate and engage the greater campus community. She also hopes to inspire others to live sustainably and get involved in the campus and the Charleston community. Outside of her involvement at the Center for Sustainable Development, Isabel spends her time volunteering with Bonner, discussing social justice, writing articles for Her Campus, exploring Charleston with her friends, and biking throughout the city. 
Cover photo by mentatdgt from Pexels.