Cougars, do you want to incorporate sustainability literacy into your CofC experience and, in doing so, make new friends, get a faculty mentor, and become competitive for more jobs? If so, then check out CofC's Sustainability Scholars Program! One of the few program requirements is having a GPA of 3.0 or higher. Still, other than that, this program is open to all students, regardless of their major or knowledge about sustainability! 
Who is Dr. Barry Stiefel?
Here we interview the coordinator of the program, Dr. Barry L. Stiefel.  Dr. Stiefel is an Associate Professor at the College of Charleston, where he is a member of the Department of Art and Architectural History, Historic Preservation & Community Planning Program, and the joint Graduate Program in Historic Preservation with Clemson University. He earned his Ph.D. in Historic Preservation from Tulane University, Master of Urban Planning from the University of Michigan, Graduate Certificate in Historic Preservation from Eastern Michigan University, and a B.S. in Environmental Policy (with a minor in Anthropology) from Michigan State University. Stiefel's research interests are on how local preservation efforts affect regional, national, and multi-national policies within the field of cultural resource management and heritage conservation.
Dr. Stiefel has always had a passion for sustainability, and before becoming the coordinator for the Sustainability Scholars Program, Dr. Stiefel was a faculty fellow for the Sustainability Literacy Institute (housed within the larger Center for Sustainable Development) when they first started to create the program in 2017. The program officially launched in 2018, and he recently decided to become the coordinator because this was the position that focused mostly on the students.   Here we share a summary of responses from Dr. Stiefel to interview questions put forth by the Resilient Advocate.
What is Sustainability Literacy?
When asked what sustainability literacy is, Dr. Stiefel responded that he believes that there are multiple definitions for the term, but for him, it is about being knowledgeable about "what it means to be sustainable in a world that balances human, ecological, and socio-economic needs." The sustainability scholars program focuses on sustainability literacy through academic coursework as well as real-world experiences. 
What if I don't know much about sustainability, but I want to learn more?
During my interview with Dr. Stiefel, he emphasized how the Scholars program helps students apply and learn about the three pillars (social, environmental, and economic systems, or the "triple bottom line" of sustainability) in whatever major they have, regardless of their prior knowledge of sustainability. Stiefel says that "No prior experience is needed, just an open mind and in a certain sense, an open heart." Stiefel stresses that this program's main goal is to prepare students for life and a future career, and the knowledge and values from this program will position them for a better future.
There are a variety of courses that fulfill the academic requirements for this program, with courses in urban and rural planning, sustainable urbanism, and courses that focus on the social aspects of sustainability as well. To learn more about the program and the courses offered, and the requirements, go to the Sustainability Scholars webpage!
For more information, contact Dr. Barry Stiefel at StiefelB@cofc.edu.
About the author: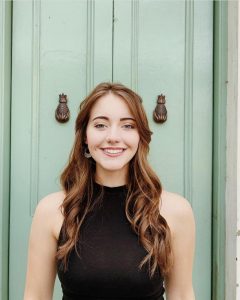 Isabel Crews is studying International Studies, French, and Communication at the College. Her endeavors with Zero Waste at her high school and her passion for sustainability led her to the Center for Sustainable Development. She volunteered as a Bonner Leader Assistant and later took the Editorial Content Intern role during the Summer of 2020. As the current Editorial Content Intern, she hopes to continue learning about sustainability and coordinating events to educate and engage the greater campus community. She also hopes to inspire others to live sustainably and get involved in the campus and the Charleston community. Outside of her involvement at the Center for Sustainable Development, Isabel spends her time volunteering with Bonner, discussing social justice, writing articles for Her Campus, exploring Charleston with her friends, and biking throughout the city.