Author: Kate Liseo
Throughout my years at the College, I've not only become aware of food insecurity, but I've discovered that the issue isn't quantity, but rather it's access. To combat this inequality locally, volunteers at the non-profit Stone Soup Collective are connecting those in need with free, plant-based soup. The organization, founded in 2017 by local activist and attorney Renee Orth, operates on a buy one give one model: every bowl of soup purchased equals a bowl given away for free. Soup is donated to spots such as the Navigation Center, Canterbury House, Ansonborough House, Dart Library, and Mary's Sweet Shop. They are made with local produce donated from GrowFood Carolina, Green Heart, and our very own campus gardens! 
In fall 2021, Stone Soup held a pop-up on campus for Hunger and Homelessness Awareness Week where they gave out exquisite vegan tacos and carrot hot dogs. And who comes up with the recipes, you might ask? None other than local plant-based chef Tianna Powell, otherwise known as Chef T! As someone who has gotten to try Chef T's soup, I'd say it's closer to artwork. From sweet potato and black bean chili to curry lentil soup, you can always guarantee it will be a healing hit.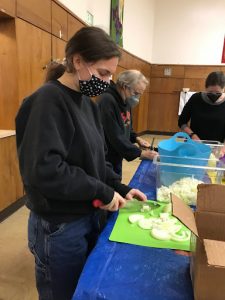 If you'd like to get involved with the organization, volunteers meet on Fridays at St. Matthew's Lutheran Church downtown (403 King Street) from 10:30 a.m. to 3:30 p.m. and on Tuesdays at Old. St. Andrew's Parish Church in West Ashley (2604 Ashley River Road) from 11 a.m. to 3 p.m. No sign-up is necessary, just show up ready to chop! 
Also, mark your calendar for the College's Day of Service on March 26th, when Stone Soup will be preparing and serving free soup to students. If you are interested in volunteering with us then and would like to be updated about future Stone Soup opportunities, sign up here! 
For more information on Stone Soup, visit their website: https://www.thestonesoupcollective.com/volunteer 
Cover photo from Stone Soup Collective Facebook.
Pictured: Kate chopping vegetables for Stone Soup.
Kate Liseo is a senior majoring in Psychology and minoring in Sociology as well as Environmental and Sustainability Studies. After taking a Psychology course with a foundation in Environmental Studies freshman year, she became interested in looking at sustainability through a psychological lens with questions like "what aspects of the human condition brought us to this point?" or "how can we consciously allow this to continue?" With these questions, she hopes to continue exploring the most effective ways to change perspectives on our current mode of operation. Aside from interning with the Center, she is the president of the Vegan Club and a member of Alliance for Planet Earth. Outside of school, she loves to cook, rollerblade, and forage for mushrooms.