Stand Out, Rise Up, Shine Together
Candlemaking With The Office of Sustainability
Earlier this month, the Office of Sustainability collaborated with the Gender Sexuality Equity Center and several other organizations on campus to host Stand Out, Rise Up, Shine Together, an event to promote advocacy against bullying and hate towards the LGBTQ community, inspire unity, and celebrate life.
It has been eight years since the passing of Tyler Clementi due to bullying and homophobia. His family founded the Tyler Clementi Foundation to address those issues. Tyler's mother, Jane Clementi was invited to speak at Stand Out, Rise Up, Shine Together in the Rita Liddy Hollings Center. The event also included spoken word by Vanity Reid, bystander intervention activities by Student Life, followed by a candlelight vigil led by Tessa Torgovitsky.
The Office of Sustainability created candles from sheets of beeswax to burn at the event's vigil.
Making the candles were fairly simple and a fun group activity to have everyone pitch in for.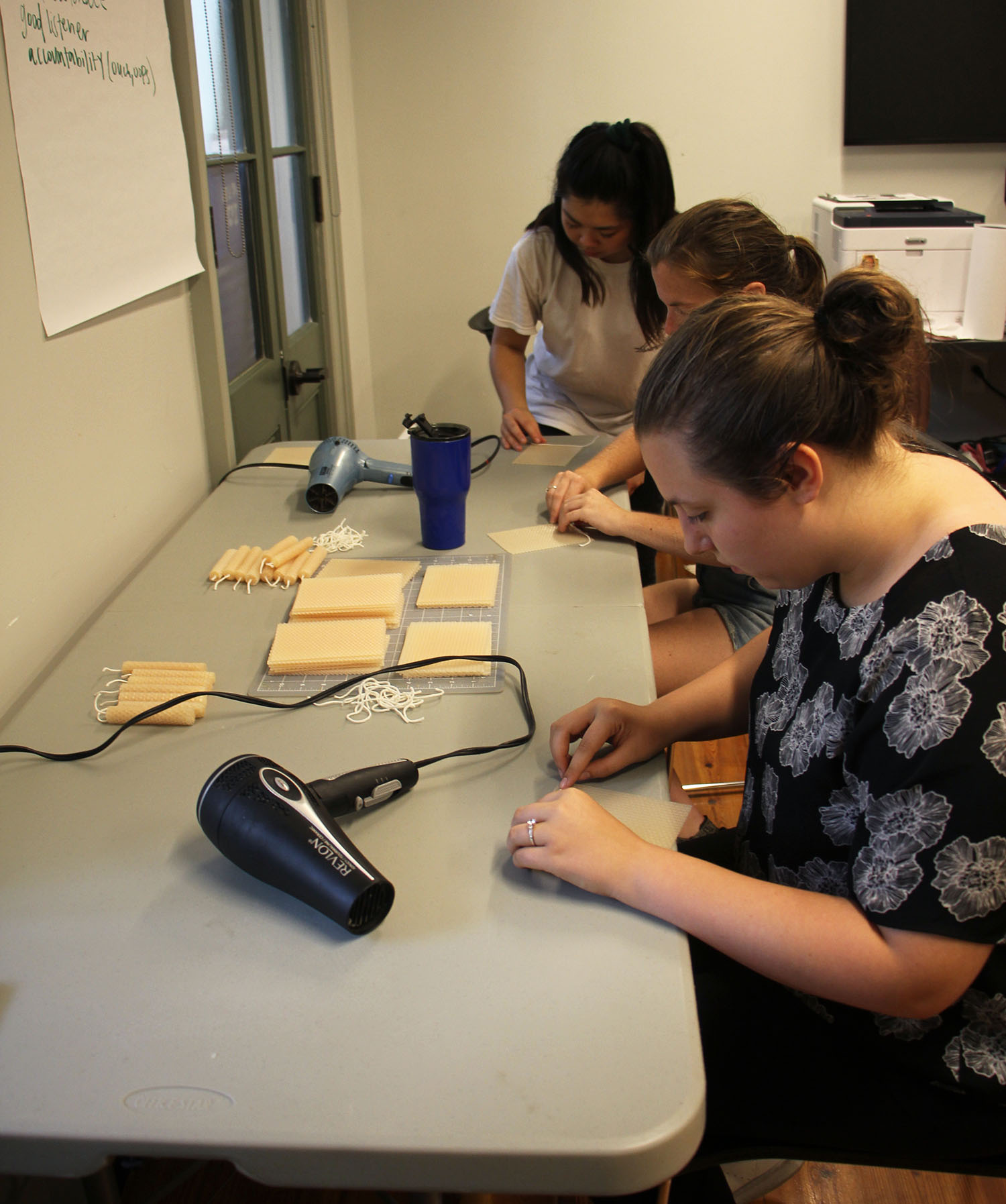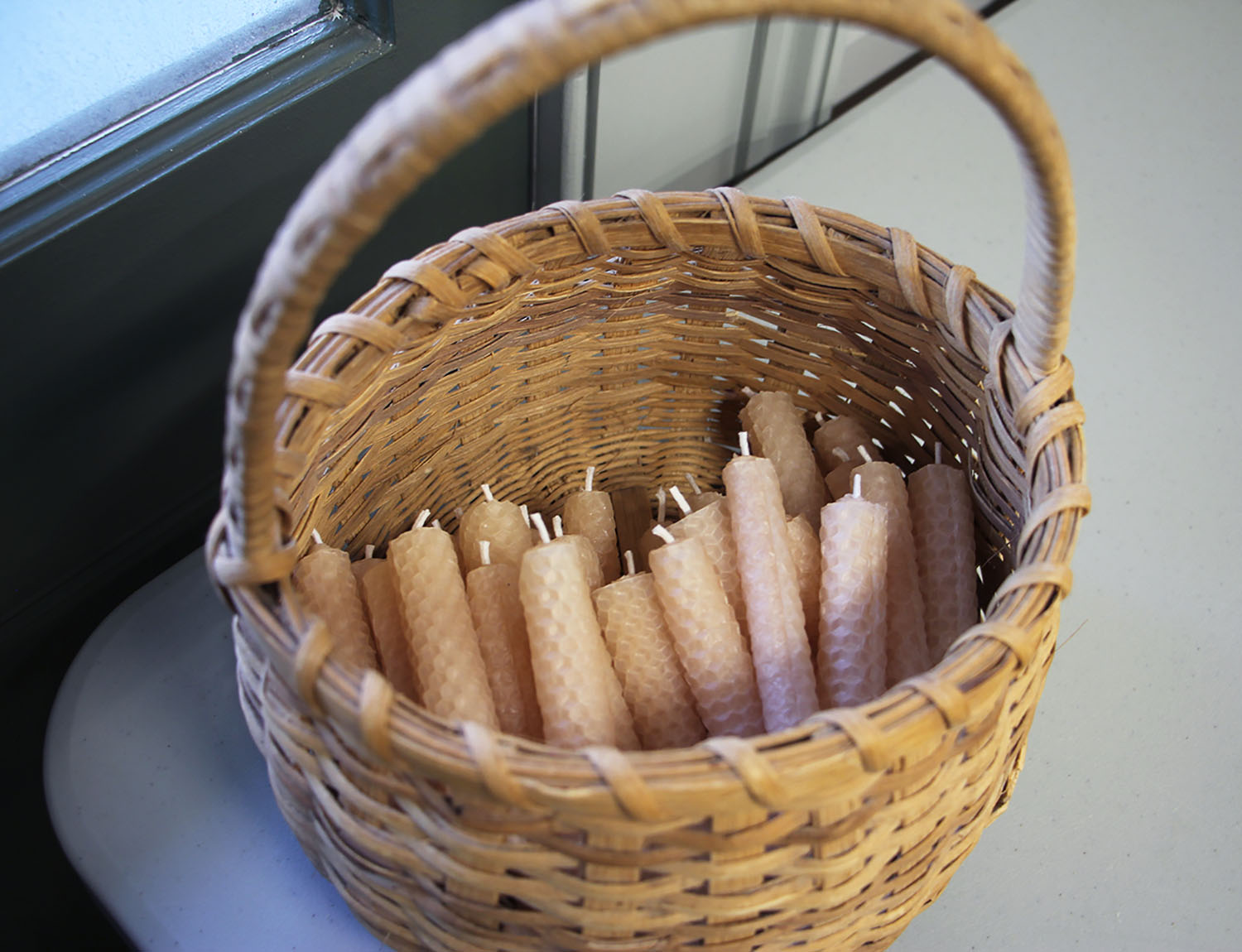 This is how they were made:
Supplies:
Flattened beeswax sheets
Exacto-Knife
Candle wick
Hairdryer
Ruler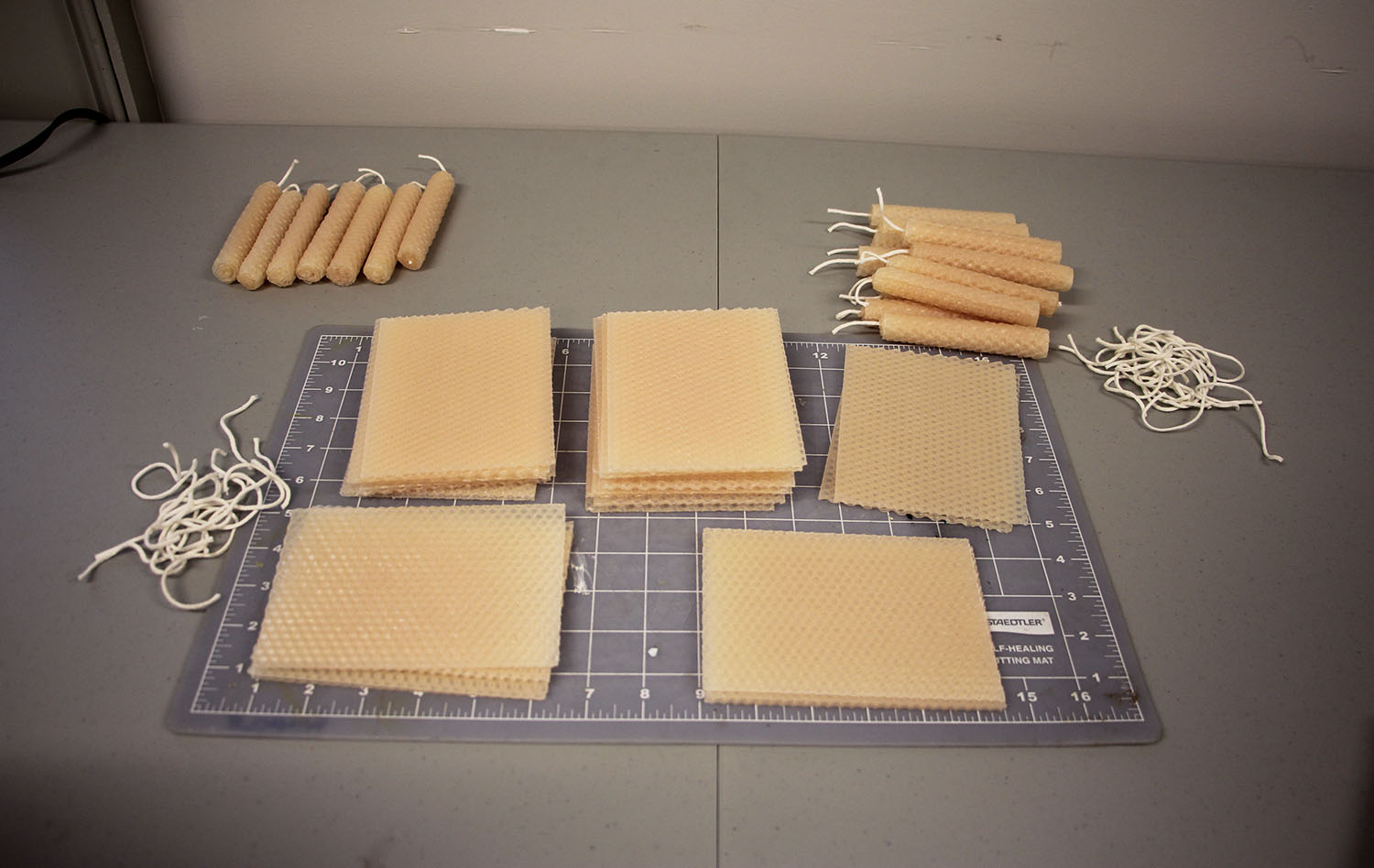 Using the ruler, measure out the beeswax sheets to the desired candle length and cut them down using the Exacto-Knife. (Be sure to cut the sheets on a surface that won't be damaged by the knife!) This will be the body of your candle.
Next, measure the wick against the newly cut sheets of beeswax. As you determine where to cut it, be mindful that the wick should exceed the length of the beeswax by at least 1 inch so that there is enough to light at the top.
Here's where the hairdryer comes in! Line the wick up with the edge of the beeswax sheet and have its length reach the full length of the sheet. Turn on the hairdryer to a medium setting and warm the beeswax sheet from the edge to the middle and slightly press the wick into the beeswax.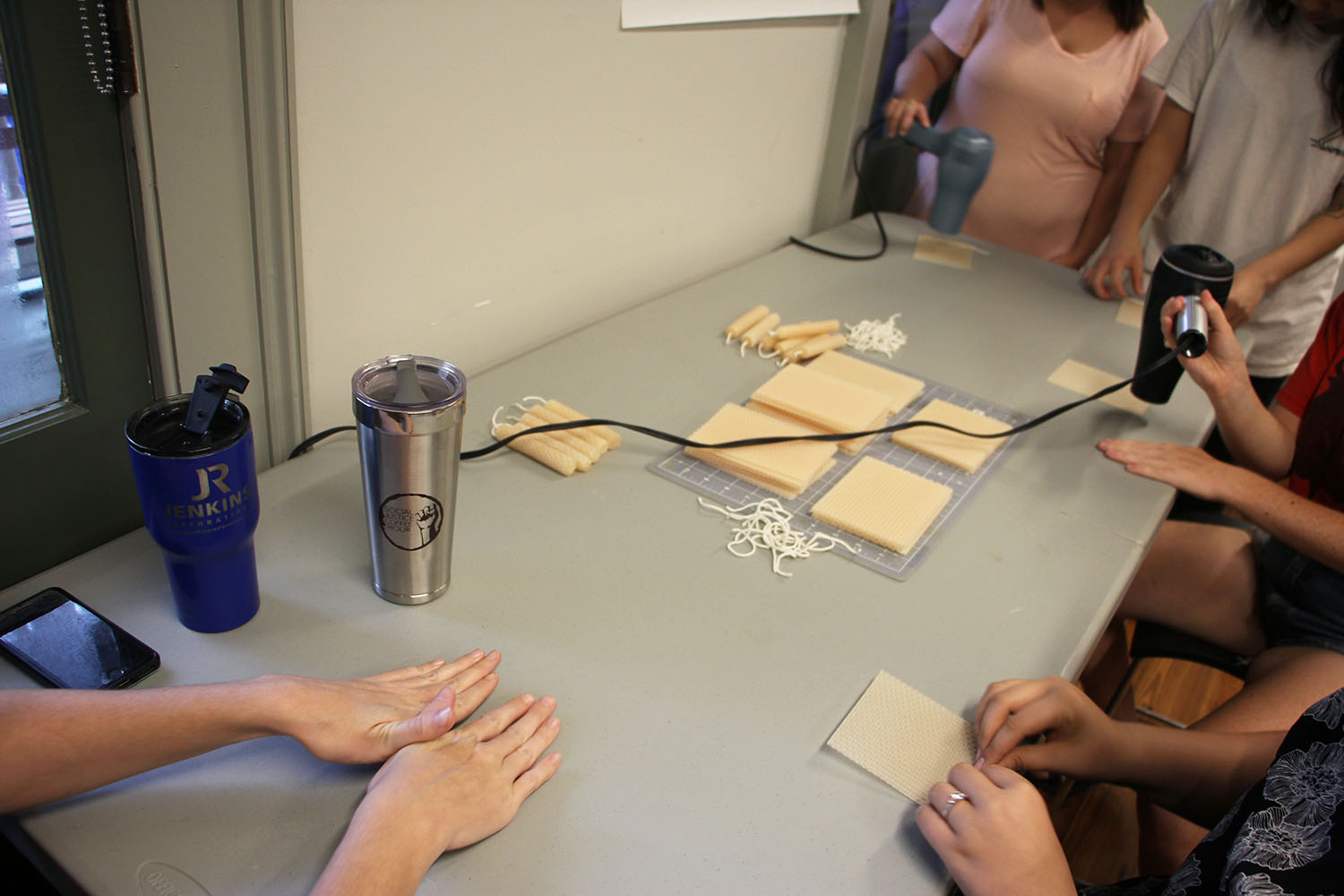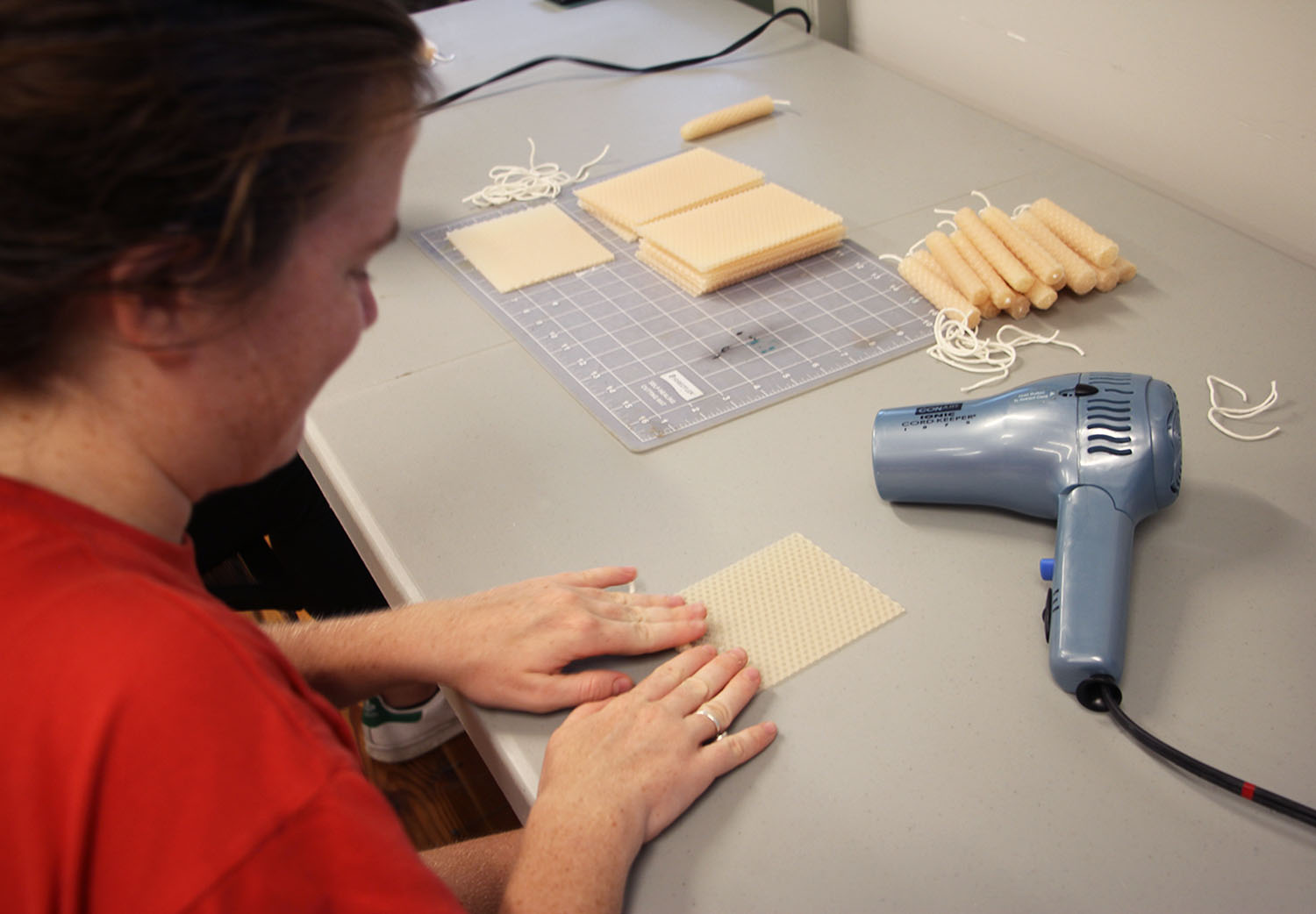 Roll time! While the beeswax is still warm, begin to roll the wick into the beeswax. For best results, roll the beeswax as tight as possible. Continue to warm the beeswax with the hairdryer as you get closer to the end.
 Et voila! Once you've reached the end of your beeswax sheet, you're ready to snip the top of your wick and light your new candle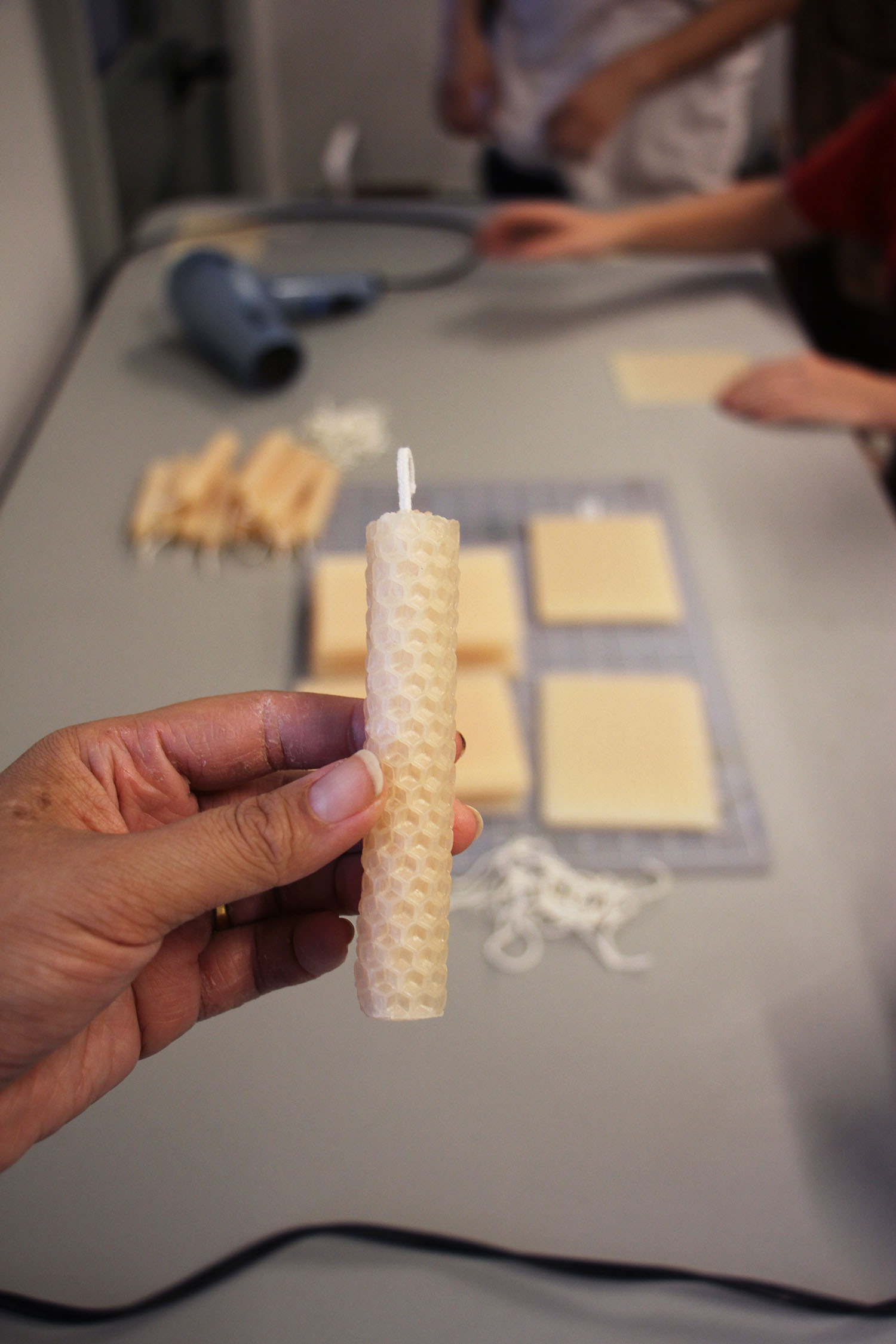 Different colors of wax are available to experiment with candle colors and design. The Office of Sustainability selected the natural color for the candlelight vigil.