When COVID-19 began spreading rapidly during the winter and spring months and countries went into quarantine, people highlighted the environmental wonders occurring due to the pandemic. Water in Venice appeared to be clearer, there was less smog in Japan, and in New York City, pollution was reduced by 50% due to lockdowns and quarantine restrictions. People have been referencing these positive impacts, and scientists began to wonder if this new change would result in long-lasting effects but soon realized other forms of pollution were on the rise. As greenhouse gases and CO2 emissions were decreasing, the amount of plastic waste was increasing. 
Where did the sustainable solutions go?
Due to COVID-19, people have abandoned their environmentally friendly cleaners for strong chemicals and Lysol wipes, and I'll admit even I have. Not only that, but we have stopped using reusable containers. We haven't abandoned our reusable containers because of carelessness; we've abandoned them because of this global pandemic. Just as I released a project and article about using reusable cups on campus, the College and coffee shops around campus decided to reject reusable containers to avoid contamination and contributing to the spread of the virus. 
For similar reasons, cities have suspended plastic bans. A plastic bag ban was put in place in January of 2020, but was soon suspended until July 1 due to the pandemic. Many grocery stores no longer accept reusable bags or require customers to bag their groceries out of an abundance of caution. It isn't just a few cities no longer accepting reusable items, "[e]ven San Francisco, one of the first US cities to outlaw disposable plastic bags in 2007, issued an edict at the end of March preventing businesses from 'permitting customers to bring their own bags, mugs, or other reusable items from home'" (Jasmin Chua). As a result, many customers opt for single-use plastic bags, which end up getting thrown away in the landfill and ending up in our oceans. It's a vicious cycle that has rapidly sped up due to COVID-19. 
Masks, gloves, hand sanitizer bottles, plastic bags, and other single-use plastic items are discarded, ending up in waterways and oceans. On a regular basis, not including the increase of plastic waste being generated because of the pandemic, "[a]s much as 13 million tonnes of plastic goes into the oceans each year, according to a 2018 estimate by UN Environment. The Mediterranean sees 570,000 tonnes of plastic flow into it annually – an amount the WWF has described as equal to dumping 33,800 plastic bottles every minute into the sea" ("More masks than jellyfish"). Scientists are warning that before we know it, masks may outnumber jellyfish in the ocean. 
What now?
It is now the summer of 2021, and things are creeping back to normal, which is good news for sustainability. The temporary suspension of the plastic bag ban in Charleston ended on July 1, 2020, so less plastic is entering our landfills and oceans. A lot of people have shifted from single-use masks to reusable ones since the pandemic has continued to affect our lives for so long, and this is reducing the number of masks that get discarded in the landfill or on the side of the road. One major challenge to reinstituting plastic bans and resuming sustainable habits is that a large number of people are anxious about this. In a CNBC article written by Melissa Repko and Emma Newburger, they interviewed Dan Donovan, spokesman for Giant Eagle grocery stores. When discussing the challenges of resuming environmentally-friendly practices in stores, Donovan said, "There's the science of what we're learning, and then there's the feelings and the emotions and the fears of people, regardless of the science in some instances" (Melissa Repko and Emma Newburger).
Are these shops accepting reusable cups again?
The College of Charleston 

Einstein's and Starbucks plan to accept reusable cups as long as it follows DHEC policies

Caviar & Bananas: Not yet.

Second State: Yes!

Huriyali: Yes!

The Harbinger: Yes!

Gnome Cafe: Yes!

The Daily: Yes!
All of this is to call attention to the threat that our habits bring to the environment. While we need to be safe, wear masks in large groups where not everyone is vaccinated, and do everything we can to slow down the spread of COVID-19, we can still make choices that are less harmful to our environment. Do what you can to help by composting at home, buying products in containers that can be recycled or reused, recycling single-use plastic where possible, opting for paper bags or bringing your own, throwing your mask in a receptacle, or routinely using reusable masks. Be aware of how you might be contributing to the increase of plastic pollution, and work to find ways you can be more sustainable during the pandemic. We're in this together.
Cover photo by Ryutaro Tsukata from Pexels.
About the author: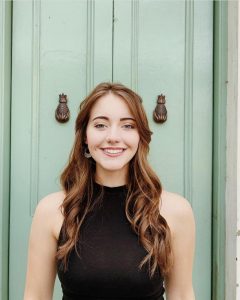 Isabel Crews is a sophomore at the College studying International Studies, French, and Communication. Her endeavors with Zero Waste at her high school and her passion for sustainability led her to the Center for Sustainable Development, where she volunteered as a Bonner Leader Assistant. After learning more about the office and collaborating on various Zero Waste events and projects, she returned for a second semester as a Zero Waste Outreach Intern for Spring 2020 and then took the role of Editorial Content Intern during the Summer of 2020. As the current Communications Intern, where she conducts interviews, writes articles, manages the Center's Instagram, and puts together the CSD's Resilient Advocate, she hopes to continue learning about sustainability and coordinating events to educate and engage the greater campus community. She also hopes to inspire others to live sustainably and get involved in the campus community and the Charleston community. Outside of her involvement at the Center for Sustainable Development, Isabel spends her time volunteering with Bonner, discussing social justice, writing articles for Her Campus, exploring Charleston with her friends, and biking throughout the city.