Author: Hanna Giblin
For the last 51 years, Pride Month has been celebrated during June. It began as a way to recognize the efforts of the Stonewall Uprising, a protest against discriminatory treatment, laws, and policing. Still, the road to equal rights for the LGBTQ+ community did not end there. 
1973: Homosexuality no longer deemed a mental illness
2009: Hate Crimes Prevention Act signed into law
2015: Sexual orientation protected under military's Anti-Discrimination policy
2015: Same-sex marriage legalized 
2020: Civil Rights Act protects LGBTQ+ community from workplace discrimination 
This list only highlights some of the major achievements since the creation of Pride Month. These monumental changes were driven by community action, protest, and commitment of the LGBTQ+ community and its allies. Please follow this link to learn more about a few influential activists of the past and present. 
Even with these triumphs, the fight for justice and equal rights for the LGBTQ+ community continues today. However, the community is not alone in this fight for equality; that is where intersectionality comes into the picture. For every person, sexuality is just one part of a socially complex identity, each component shaping who we are and our experiences in society. Other categories of our social identity include gender, race, ethnicity, class, religion, etc. 
Understanding the Language 
The term oppression refers to disadvantages and discrimination in general that an individual may face based on social identity. However, it is crucial to recognize systems of oppression because a system of oppression addresses the idea that our social institutions (government, education, culture) have historically contributed to or reinforced patterns of mistreatment. Using this language makes the distinction that discrimination and oppression go beyond individual biases and even influence our culture, society, and laws based on historic views dominance.  
Intersectionality refers to the idea that these categories of our social identity (gender, race, ethnicity, class, religion, etc.) are interconnected and interdependent in the way we are faced with discrimination. 
Our identities may also lead us to experience oppression in multiple forms. For example, a woman of color in the LGBTQ+ community may experience multiple forms of discrimination based on her gender, race, and sexuality. This is not to compare or discredit any inequality someone may experience; it is simply important to recognize that the overlapping nature of our identities can create more or fewer obstacles towards achieving equal rights. By considering intersectionality when addressing social issues, we can address the impact of multiple prejudices/biases coinciding. 
While the ways in which discrimination and systems of oppression affect us may differ depending on one's identities, intersectionality reminds us that we are fighting a common enemy: discrimination, injustice, and inequality. Therefore, as we celebrate Pride month, let us take action against all forms of oppression and their interconnectedness. These labels should not define our opportunities in life.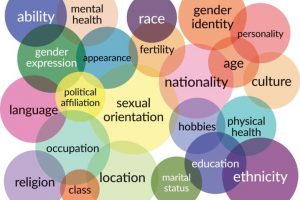 Intersectionality in the LGBTQIA Community | icma.org
How Does This Relate To Sustainability & Our Future?
To move towards a sustainable future is to work to eliminate inequality and injustice based on social identity. We must actively work to amplify the voices of marginalized communities and support vulnerable populations facing systems of oppression. Social sustainability and social justice refer to efforts to build equitable, interconnected, and diverse communities. This includes implementing policies to eliminate discrimination, providing social services to support communities, and building infrastructure to support healthy social, physical, and cultural life for community members. 
These social imbalances also negatively impact marginalized communities on an environmental scale. Individuals in these communities are often forced to live in areas with the most environmental hazards (pollution, lack of resources, etc.) and the areas most negatively impacted by climate change. Marginalized communities generally lack political representation, limiting economic opportunity and their ability to eliminate environmental hazards in the area. As you can see, obstacles faced by marginalized communities affect all areas of life.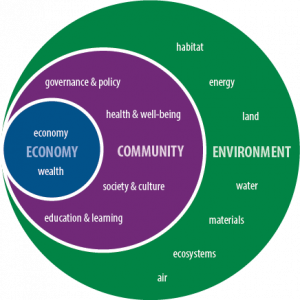 futureoxford.ca – Sustainability Plan
"Injustice Anywhere Is A Threat To Justice Everywhere."
-Martin Luther King Jr. 
To move towards sustainability as a society, we must commit to empowering and amplifying the voices of the LGBTQ+ community and all marginalized communities. Regardless of your status or social identities, the wellbeing of friends, family, neighbors, and your community depends on our collective effort to fight for and protect equal rights and break down systems of oppression. 
Pride Month, LGBTQ+ and the Environmental Movement – Endangered Species Coalition
Intersectionality in the LGBTQIA Community | icma.org
LGBTQIA+ Health Pathway | NNLM
16 Landmark Historical Moments for Pride (audacy.com)
What is Social Sustainability? | Definition of Social Sustainability | ADEC ESG Solutions (adec-innovations.com)
futureoxford.ca – Sustainability Plan
Social Identities and Systems of Oppression | National Museum of African American History and Culture
Cover photo by Laker from Pexels.
About the Author:
Hanna is a sophomore at the College of Charleston, double majoring in Public Health and Sociology with a minor in Spanish. She hopes to use her diverse studies to have a future in nonprofit work to support sustainability in our food systems and community development. When Hanna is not in class or doing work for the Center, she can be found cooking, spending time in the garden, and inspiring others about subjects she is passionate about!