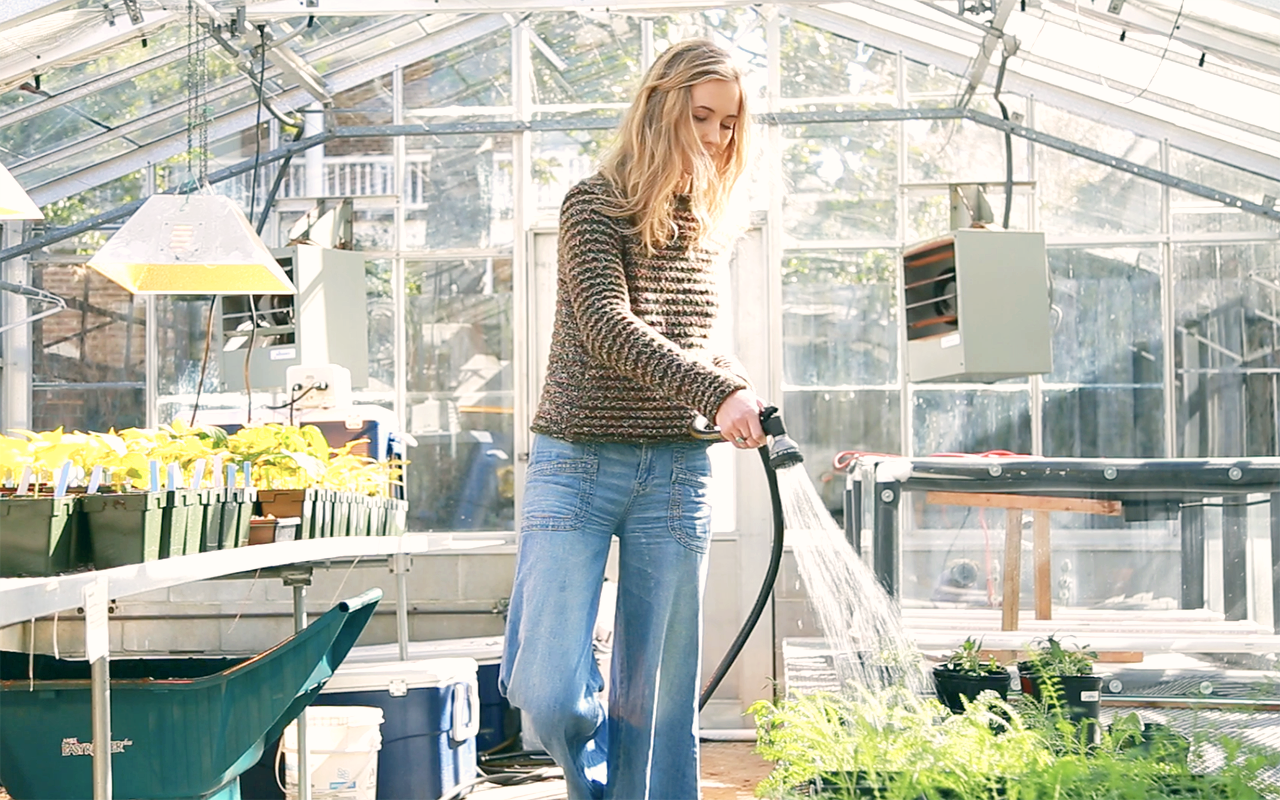 By Madeline Kiser
In this monthly video segment of Sage Medicine, learn how Matricaria chamomilla, or Chamomile, is a great liver tonic, stress reducer, and all around power plant for your body during these cold winter months. Garden Apprenticeship Lead Intern Madeline Kiser shares the best way to grow and harvest your very own Chamomile plant babies!
Medicinal Properties
Matriarca recutita, or Roman Chamomile is a sweet and gentle herb that has been used for centuries by the ancients.  While the chamomile flower lends a certain sweetness and gentleness, do not be fooled!  It is also a digestive bitter, helpful for clearing out stagnancy within the digestive system.  Often referred to as the "star among medicinal species," chamomile has traditionally been used for it's digestive and relaxing effects, and for the treatment of inflammation, muscle spasms, menstrual disorders, insomnia, ulcers, wounds, and gastrointestinal disorders such as IBS.  Among the many active compounds available within chamomile, two of the most prominent are phenols and apigenin.   Apigenin is a compound that is responsible for decreasing cortisol plasma concentrations, thereby quelling a potentially agitated central nervous system.
This highly potent herb also lends itself as a hepatic tonic – meaning that it is very effective in  cooling and addressing issues of the liver, helping to tonify and strengthen overall liver health.   Each three phases of the digestive process is soothed with it's GABA-nergic properties, and overall tremendous anti inflammatory effects on the body.  As we transition into the spring season, it is important to address liver and gallbladder health, as these two organs are vital to the cleansing and processing of the immune system.  They are responsible for helping the body transition through the seasons by ensuring hormonal regulation, cleansing and nourishing the blood, and serve as the central point for immune system health.
Growing and Cultivating
Chamomile thrives with sunny conditions, but also make sure to have some dappled shade to protect it, especially in a subtropical climate like ours where we receive 13 hours of sunlight per day.  Best started in a greenhouse, due to the small size of the seeds.  Once a set of true leaves show, and the plant is well established, plant into the ground after the last winter frost in preparation for spring.  Make sure to add organic matter and compost to the soil in preparation for chamomile, and add a diluted concentrate of fish emulsion to it every so often during the springtime.
To maximize the most from your harvest, plant chamomile with other annual herbs and flowers such as calendula or borage, this way you can harvest all of the annual crop flowers on a daily basis.  To increase the yield of chamomile flowers, harvest the flowers by gently plucking the flowers off the stems.  You can also use a blossom comb, which is specifically designed for harvesting chamomile flowers performed on a larger growing scale.
As a part of the garden apprenticeship, we have cultivated large quantities of chamomile in the greenhouse, which is being diverted into an on campus garden, romney street community garden, and even some local farms on John's Island!  Celebrate the coming of the spring, and do your liver a favor by including chamomile into your daily habits to ensure a smoother and gentler transition into the spring season!  (The bees and local pollinators will thank you for it too!)