Author: Kate Liseo
Have you ever been walking in the woods and stopped to picture what the earth looks like below? You may think about complex tunnel systems made by insects or large intertwining tree roots. However, one of the most important and vast networks that reside there is mycelium. Mycelia are fungi that look and act similar to a neural network, as they are a conglomeration of great weaving and branching strands that can act as a communication medium for other organisms. Additionally, mushrooms are the fruiting body of mycelium, and they both work as decomposers of organic matter. But beyond being a major player in communication and natural decomposition, fungi have properties that can help heal a variety of sustainability-related issues we face today.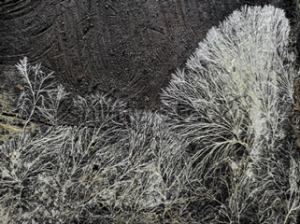 Mycelium-photo by Cheng Wei through Pexels
Medicine
One role mushrooms can have is in alternative medicine. Though there is increasing research on the healing properties of mushrooms, mushrooms as medicine is nothing new. Records of medicinal mushroom use date back to a variety of ancient cultures, including Greek, Egyptian, and many more, and they are still in use by indigenous peoples around the world. So when talking about medicinal mushrooms, it's important to note that they are not a newfound discovery to be accredited to the scientific West, but rather, the West is using research to understand and possibly expand on already established wisdom and knowledge.
There are so many medicinal mushrooms to talk about, but here are a couple of major players in alternative medicine. Known as "the mushroom of immortality" and originating in China as "Lingzhi," reishi is thought to be the oldest and most powerful medicinal mushroom. Some health benefits include lowering the risk of heart disease and cancer, boosting one's immune system, and increasing energy. Another major one is the Chaga mushroom, which originated in Russia and Siberia and only grows in cold climates on white birch trees. They are unique in that they are not actually a mushroom, the fruiting body of mycelium, but a parasitic bundle of mycelium itself. They appear as a black tumor on the tree, but when cut open, they're a beautiful golden orange. Some of their healing properties include anti-inflammatory properties, diabetes, cancer treatment, and lowering cholesterol. There are a number of ways these mushrooms can be consumed, including preparation as tinctures, teas, powders, soups, and more!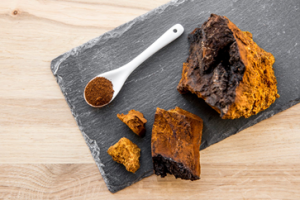 Chaga mushrooms- photo by Helin Loik-Tomson through Getty Images
Beyond their physical healing properties, mushrooms are being increasingly studied in mental health fields. Typically in a session with a professional therapeutic guide, psilocybin mushrooms are being shown to help with mental illnesses such as PTSD, substance abuse disorders, anxiety, and depression. There are a few different theories on why these psychedelics might work including changes in neurochemicals, which are chemicals in the brain that influence mood and other bodily functions, or neuroplasticity, which is the brain's ability to grow in quantity of neural connections. And though not yet accepted as a form of treatment, with increasing decriminalization across the country as well as research in the medical field, psilocybin mushrooms may soon be accepted as an alternative medicine for a number of psychiatric disorders.
Plastic eaters
Going further beyond medicine, mushrooms are on the rise in research of their decomposition of plastics. Back in 2011, Yale students discovered a mushroom, Pestalotiopsis microspora, that was capable of consuming plastic in an anaerobic environment, which is a plus for plastics that reside in oxygen-deprived environments, such as the bottom of landfills. Research has since found a number of other plastic-consuming mushrooms. Though kinks in cost and efficiency challenge getting the fungi out there on large scales, like landfills, hopefully, there will soon be ways to get the fungi out there on smaller scales, such as in kits for households to start managing and breaking down waste themselves.
As you can see, mushrooms are very versatile not only in their shape and color but in their healing abilities as well. However, in the increased use of mushrooms by the West, we must be careful in how we go about obtaining them. Like anything else, their growing and harvesting capacity is limited, and some can only be naturally grown and sourced in certain climates. Thus, limits and boundaries must be kept in mind so as not to disturb forests, cultures, or the mushrooms themselves. One company that is a great example of a responsible sourcer is The Chaga Company in San Francisco, which was started in Alaska when the founder, Gavin Escolar, learned through native Alaskans the wonders of Chaga. When the company discovered that the forest in Nepal from which their mushrooms were being harvested was being overharvested, they stopped sourcing from there in order to give the forest time to heal and restore. This is just one example of how we could be respectful and responsible in our consumption so as not to trade the health and function of forests for our own health and wellness benefits. So with proper care and use, our fungal friends can help us move toward natural and holistic solutions to a variety of global issues.
7 Medicinal Mushrooms and Their Health Benefits
About the author:
Kate Liseo is a senior majoring in Psychology and minoring in Sociology as well as Environmental and Sustainability Studies. After taking a Psychology course with a foundation in Environmental Studies freshman year, she became interested in looking at sustainability through a psychological lens with questions like "what aspects of the human condition brought us to this point?" or "how can we consciously allow this to continue?" With these questions, she hopes to continue exploring the most effective ways to change perspectives on our current mode of operation. Aside from interning with the Center, she is the president of the Vegan Club, a member of Alliance for Planet Earth, and sings with the Acabelles a capella group. Outside of school, she loves to cook, rollerblade, and forage for mushrooms.