Author: Alexis Williams
With recent weather changes in the Charleston area, it's important to address one of the main issues we face on campus: flooding. Charleston floods so often and so much because it is located only a few feet above sea level and is almost surrounded by the ocean. Charleston also has many impervious surfaces or areas that have difficulty absorbing water, such as asphalt, buildings, etc. These areas are prominent in downtown Charleston, especially on campus. Think about that one intersection beside Cato and Chick-Fil-A, it's constantly flooding, and if you're not careful, you may get splashed with some of that rainwater. This is where rain gardens come in.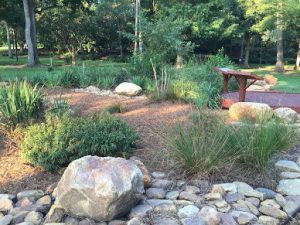 Rain gardens are plant basins often placed in front of runoff from a roof or a paved area (i.e., driveway) that receives an abundance of rain. These basins collect rainwater in order to prevent the collection of water in front of the property. So, how do you make a rain garden? First, build a berm (a raised barrier) in a low spot in the yard or area, then build a channel runoff from the gutters or higher spots of the yard that collect the most rainwater. This water is then absorbed into the soil through the deep plant roots, preventing extreme flooding. Once those plants bloom, you're all set! You have a beautiful garden as well as something to protect your yard; it's a win-win! 
Sources:
https://www.un.org/en/chronicle/article/floods-and-climate-change-sustainable-development-and-other-imaginations
https://www.charleston-sc.gov/DocumentCenter/View/574/Why-Does-It-Seem-Like-Charleston-Always-Floods-090529?bidId=
http://nrcsolutions.org/rain-gardens/
Rain garden picture: https://scliving.coop/home–garden/green-your-landscape-with-rain-gardens/
Cover Photo by Crystal Partridge from Pexels
About the author:
Alexis Williams is a Senior at the College majoring in Public Health and minoring in African American studies. She is the Graphic Design and Outreach Intern at the Center for Sustainable Development and looks forward to graduating this Spring.