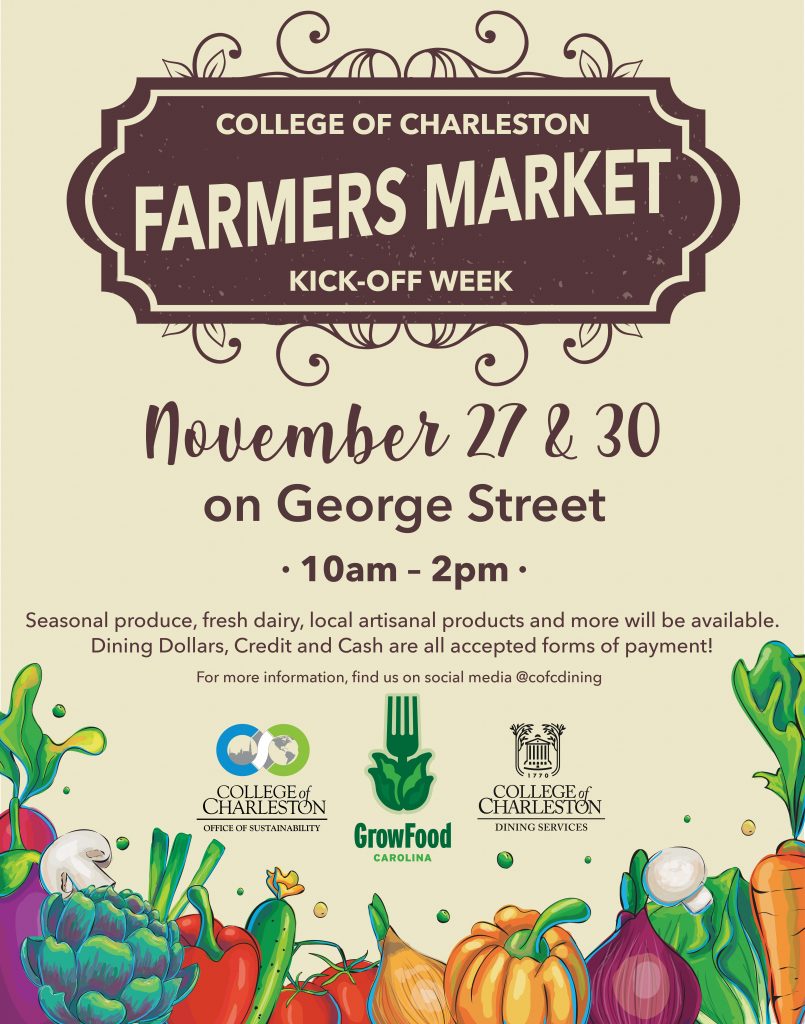 As class change happened a couple of weeks ago, you may have noticed George Street closed off and filled with tents and vendors. On Tuesday, November 27th and Friday, November 30th, the College of Charleston's Office of Sustainability and Dining Services partnered up with GrowFood Carolina to kick off our first on-campus Farmer's Market! Shoppers were able to find produce and products from local farmers located all over the Carolinas including Lowcountry Creamery, Vertical Roots, Cocoa Academic, Anson Mills, Horsecreek Honey Farm, Bulls Bay Saltworks, Holt Orchard, and more. Supporting local businesses was made easy by being able to pay by dining dollars, credit or cash.
There were organizations such as Vegan Outreach that showed up in support of our CofC Vegan Club who provided samples of vegan dishes, and special pop-ups by our very own Registered Dietician and Nutritionist Emily Ackerberg demonstrating blistering Shishito peppers on Day 1, and homemade Blueberry Thyme Sweetened Fromage Filled Donuts by Executive Chef Tonya on Day 2!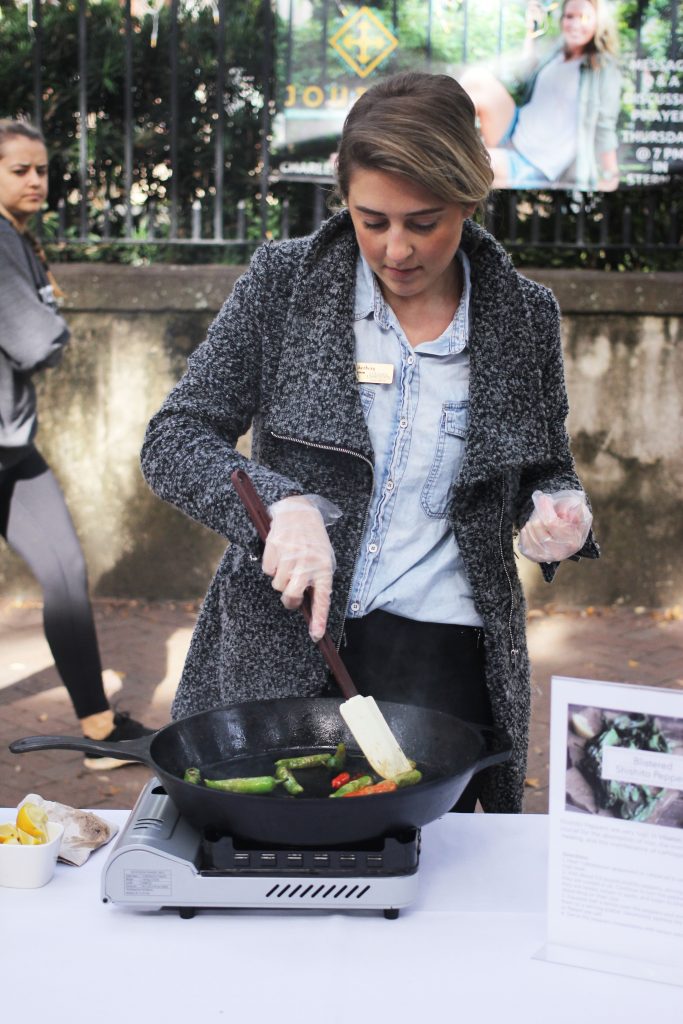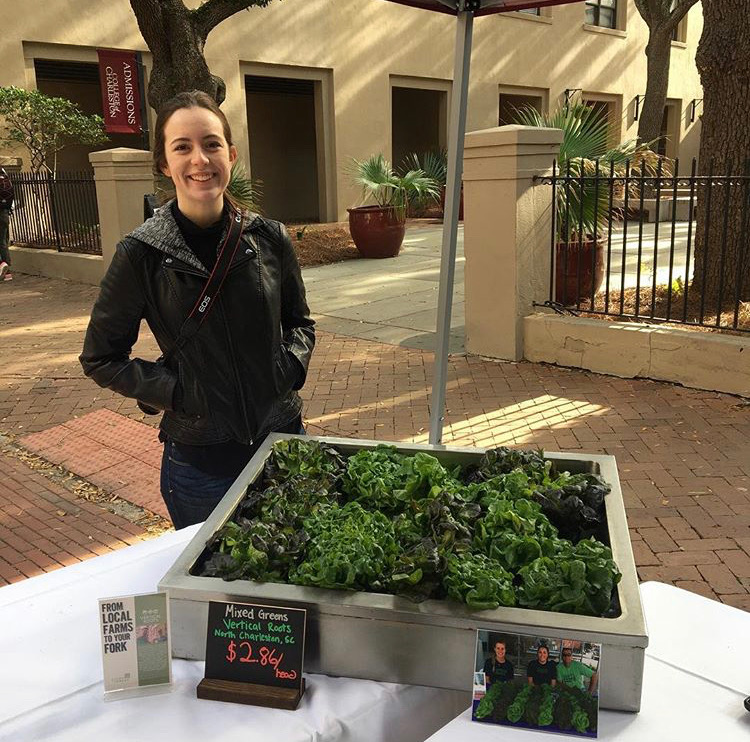 We got in touch with the Office of Sustainability's Lead Farmer's Market Intern, Adelaide (Addie) Bates and received some insight behind the scenes of the Farmer's Market and what to expect next.
Addie credited Aramark with jump-starting planning in the beginnings of the CofC Farmer's Market. "The Farmer's Market planning committee first met in October. The group consisted of representatives from Aramark, the SLI, the OoS and other departments. Aramark did a tremendous amount of groundwork for us to be able to jump in this Fall and get right to work."
Of course, it isn't always an easy path to kick start a new community event. When asked to share some challenges that Addie and the committee encountered, she shared that "the market is not perfect, but because of the great planning group, it is obvious there is a push to make it the best it can be. The largest challenge right now is getting farmers on site. Sometimes getting the farmer out of the field requires a lot of communication and trust building, but a direct connection with your farmer is an important goal of farmers markets. It is my personal objective this upcoming semester to find the right farmers to connect students with their food, the fields, and their farmers." 
Addie is also the Founder and Director of The McClellanville Land & Sea Market! From her first Farmer's Market project in her hometown, to the newest at the College of Charleston, it's no question that she's extremely passionate about connecting farmers to consumers. "My passion for farmers began as a general love for the working man," she begins.
"My upbringing in a fishing village of 500 people led me to love the humble fishermen, farmers, and locals of the Lowcountry. As I grew older my appreciation for our unique town became a passion. I funneled my energy into building a community center because I wanted to see my town stay connected to our traditions of agriculture and fishing. My passion for connecting farmers to consumers blossomed from there as I watched family, friends, and neighbors appreciate what they were eating and the people who had provided it. The farmers market showed it was a place for connection, and after seeing the power connecting people to their farmer as I am determined to spread that opportunity to other communities."
Our interns are outstanding!
Thank you so much Addie!
If you weren't able to make it to the kick-off, no worries!
Stay connected with The Office of Sustainability (IG: sustaincofc) and Dining Services (IG: cofcdining) to stay updated on Farmer's Market schedules in the Spring Semester!