The fall semester is starting soon and we can't wait to get back on campus! Here at the center we've done some major renovations and are happy to relaunch our bike share program. We'll be offering short-term one-day rentals, and long-term semester rentals to get everyone on the road and biking. Here's everything you need to know about renting a bike this fall.
For long-term rentals, simply fill out a google form request sheet with your bike preference and preferred check-out date. The request form can be found at bike.cofc.edu. Bikes range from high step cruisers, step-thru cruisers, and road bikes. High-step cruises and road bikes have a crossbar, so we'd recommend those for people over 5'3". If you're a bit shorter, a step-thru cruiser might be more comfortable, but a bike stand over height can sometimes just depend on biker preference and familiarity. Either way, we'll do our best to fit you with something you feel good biking with.
During the bike request process, you'll watch a short video about bike safety and fill out a waiver form. The process is newly streamlined so it should not take too long to complete these. We've established set pick-up days on August 30th between the hours of noon and 3 pm, and on August 31st between 11 am and 1 pm. Pick which day and time range work best for you and someone from CSD will reach out to you to set a specific pick-up time.
On pick-up day, arrive at your specified time at the Center for Sustainable Development at 14 Green Way. There we'll pass off the bike, a lock, a cover, and a light to you. From there, the bike is yours all semester long! At the end of the semester, we'll reach out to you to coordinate a return time just before finals week.
If you don't want a bike the entire semester, we'll also have one-day rentals available at the Stern Student Center. For those, fill out the short-term rental form to become an authorized user, then go to the Stern Center to check if a bike is available. If it is, a Stern Center employee can help check it out to you. These rentals are only one day, which means the bike is due back the next day at least one hour before the close of the Stern Student Center. If you check it out on a Friday though, the bike will be due back the following Monday by an hour before close. After you become an authorized user for the Stern Center bikes you can check them out whenever you'd like without having to fill out the rental form again.
That should be all you need to know about utilizing the new bike share system this fall, and we hope you'll take advantage of it! If you have any questions about the bike share, email sustainability@cofc.edu. Happy biking!
About the author: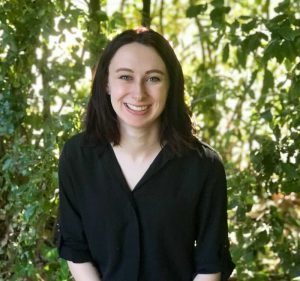 Rebecca is a junior at the College of Charleston and is pursuing a second degree in biology. She is originally from Seattle, Washington and worked in corporate video before deciding to start her career change at College of Charleston. Rebecca will be pursuing botany and hopes to develop solutions for combating climate change. When she is not in class, Rebecca tries to keep up with her puppy, Ace, and can be found gardening and painting.