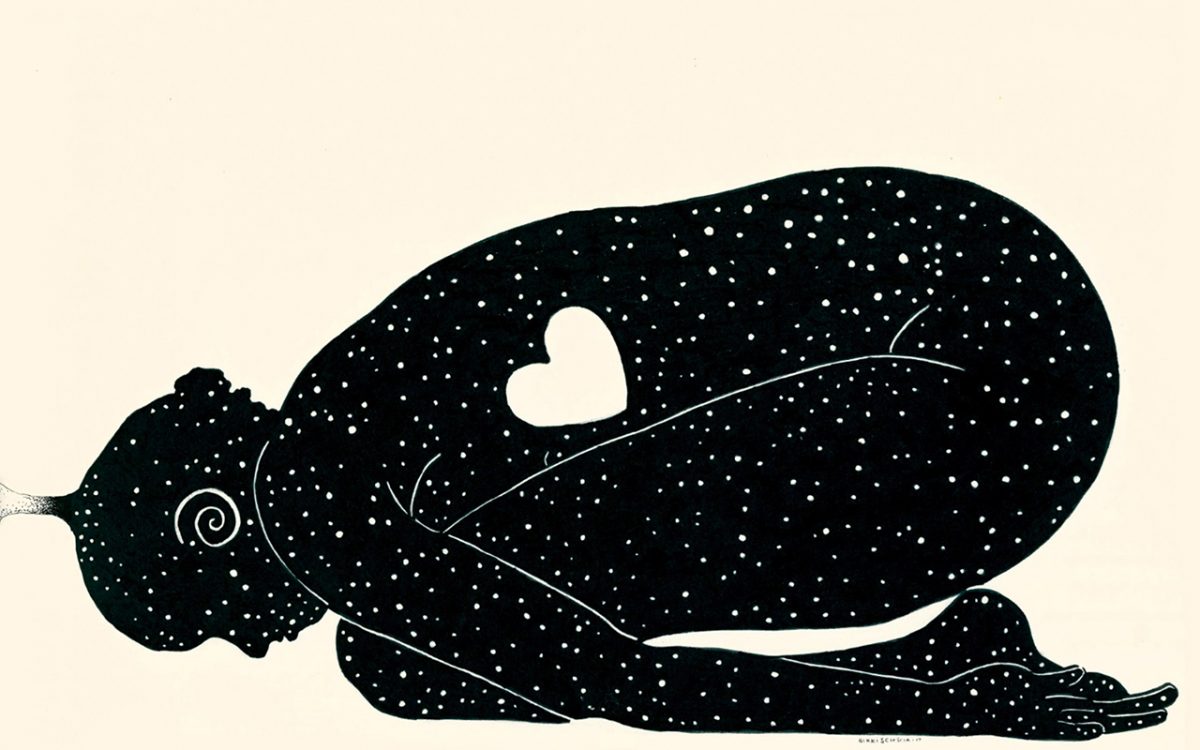 Words by Sophie Beyer; Illustration by Nikki Scioscia
There are these preconceived ideas about what Western studio yoga is- something like tight bellies, a hot room, and lots of perfect headstands. And just like ideas about what sustainability is- recycling, wearing sandals, and protecting the environment- these aspects are present, but by no means do they encompass all that there is.
To me, being a yogi means practicing movement and breath in order to become more mindful and to bring the lessons I learn in class into the world. Often I hear from people who are afraid to start practicing yoga because of their ideas about what it means to be a yogi. In this same way, people become intimidated to be more sustainable. You may be intimidated to think about how much trash you produce or to grapple with the fact that the changes or sacrifices you make will not reverse the spiraling future of our planet. Often I hear people argue that they do not use reusable water bottles or other non-disposable items because it is too much work, or that it won't make a real impact, just like some people never try yoga because they cannot touch their toes.
There is no end goal in yoga. There is no point when you fold your body into an impossibly perfect shape or extend your toes to the ceiling and then exit your mat feeling like you have mastered yoga. Yoga is about the process. It's about alignment and how your individual body on that particular day fits into a pose. It's a process that has no conclusion. You could spend months gaining strength, flexibility, and confidence to position your knees into your armpits and your hands firmly placed on the ground. Hell- it could look good enough to be shared on Instagram, but the process begins as you glide to your next posture or your next breath, and that is the point.
Like yoga, sustainability is about the process. It's about living day to day with more awareness and understanding that there is no achievable end goal. There is no point at which you've mastered sustainability or you've reached a nirvana that makes the practice unnecessary. Sustainability is an approach that you can apply to every part of your life and to the world around you.
Yoga and sustainability are also both about breaking habits. They teach me to break down self-judgment and the attitude that nothing I can do can help the world. This month I convinced my 50-year-old mom to come to a Yoga Introduction Series with me. As someone who has practiced yoga for many years, I started the process again from the beginning with my mom by my side. We took it slow and week by week learned how to reach forward, how to breathe from the back of our throats, and how to stand still. A year ago, I would have felt discouraged to start from the beginning because I would have felt that I was already past the fundamentals of yoga. This time, I understood that as important as it was for me to relearn why I practice yoga, it was also important that I joined my mom in her first yoga class.
I see similar tendencies in the sustainability world. I see how my mom and other adults in my life can be stuck in a routine, never thinking about how many bags they waste at the grocery store or where their plastic bottles go when they throw them out. I also see these people changing. I see my mom using her reusable coffee mug, proud of the small changes she has made. I see how my attitudes and actions are passed off to those close to me, even if they don't realize it. Overall, yoga and sustainability have both taught me that my actions are the only reliable thing I can change, but often, my actions end up having a great effect on the world around me.