The BLM movement is controversial only because so many people automatically think of it as violence instead of what it really is, a fight to protect black lives. Dr. Wanda Ebright describes BLM as a movement "making it possible to stop the violence, both physical and socioeconomic, against black lives." It's not a movement out of hatred; it's out of fear.
This summer, the Center for Sustainable Development's summer interns and staff read Dr. Ibram X. Kendi's book, How to be an Antiracist. Dr. Wanda Ebright, Associate Professor of Dance and the Associate Dean and Director of Graduate Studies for the College of Visual and Performing Arts at Winthrop University. She discussed the Black Lives Matter movement as well as vocabulary used throughout Dr. Kendi's book.
In Ibram X. Kendi's book, he defines an antiracist as "One who is expressing the idea that racial groups are equals and none needs developing and is supporting policies that reduce racial inequity."
How can people be antiracist in today's society, especially when addressing groups or people who do not understand the BLM movement or the social justice issue at hand? She suggests that it's important for people to realize that "change can happen on an infinite number of levels." Dr. Ebright asserts that the BLM movement is not about giving handouts to people of color, that it is instead about taking away the barriers that allow everyone to work and live.
Dr. Ebright says asking questions is a big part of being antiracist and that we need to challenge schools and companies that do not actively work to address a lack of diversity and racism within their walls. Frustrated, she commented on how often textbooks don't include diverse perspectives and that people can make a difference by asking why they don't.
Why do people only spend time with or interact with people who look and think as we do? Does it have to do with their background or location? In school and their own neighborhood, people aren't getting as many perspectives as they may want or think they are getting. Dr. Ebright encourages people to try to recognize these things and take action and make an effort to meet and get to know people who are different from us.
When discussing the movement and racism, three common terms need clarification:
Privilege:
The word privilege alone has very different meanings for people. Dr. Ebright reflects on her own classroom, discussing how everyone defines privilege differently. White students often feel that when students of color use the term, they assume they are rich and come from money. She says that this is often not the case, and the reason students get confused about this term is that they don't hear each other out and realize that it was not defined the right way.
Dr. Ebright stresses that in communities of color, people are saying "that if you get pulled over for a taillight that is out, you are not struck with fear." Rightfully, Dr. Ebright claims that "if you have never had that feeling, that is a privilege…there are not enough of you being killed to make you feel that way." For those individuals in positions of power or privilege, it is important to use it to listen, speak up, and speak out.
Racism/Racist:
In his book, Dr. Kendi defines a racist as "One who is supporting a racist policy through their actions or inaction or expressing a racist idea." In Dr. Ebright's words, "racism isn't owned by any one race." She says that as an educator, she has realized that "anyone can be racist and have racist thoughts and belief systems." To change, it is necessary for others to challenge these belief systems, even if they are their own, and try to have a conversation about it and what people can do to stop racism.
Protest:
Although people often see the BLM movement as violent, this is not the case. Instead, the BLM movement is about nonviolent protest. It's not about the riots, but people hear the words BLM and automatically think of it as violent.
Dr. Kendi says that racism is "not always about ignorance and hate, it's about self-interest," and Dr. Ebright echoed this same sentiment by pointing out that "keeping people upset keeps people in control."
She believes there need to be more conversations about inequality in order to understand one another. For those hesitant to do this, she said this is often because "fairness always seems unfair to people who had a privileged position of power before." Conversations can help to take away the barriers that hinder people of color. Since the movement's creation, Ebright has noticed positive changes that have come out of the BLM movement.
Activists supporting the BLM movement are stepping up and attempting to create positive, long-lasting change. Protests have taken place in neighborhoods and cities across the country and across the world. The movement itself is very diverse, and people support each other by calling out institutions and companies for their lack of diversity and support for people of color. Dr. Ebright emphasizes how people are having conversations and are allowed to disagree and still love one another. Dissent is patriotic, and now is not the time to stand by.
Don't be afraid to ask questions, challenge others, and reflect on your own beliefs. I'll leave you with a few points that Dr. Ebright made that I believe she articulated beautifully:
"Reach out and make sure your friends of color are okay."
"Make it okay to have the conversation, don't shut it down."
"This is not a phase; this is not a fad; this is a movement."
Listen to the podcast here.
About Dr. Wanda K. Ebright:
Wanda K. W. Ebright holds a Ph.D. in Dance from Texas Woman's University, a M.F.A. in Dance Performance and Choreography from Florida State University, and a B.A. in French from Memphis State University. Dr. Ebright serves as Associate Dean and Director of Graduate Studies for the College of Visual & Performing Arts at Winthrop University. Prior to this appointment, she served as Coordinator of the Dance Program and the Visual & Performing Arts major at Johnson C. Smith University in Charlotte, NC, where she taught all levels of classical ballet, pointe, Graham-based modern, and jazz dance. She is Artistic Director of The Wanda Project, a ballet-based contemporary dance company, and her research is focused on the history of dance in historically black colleges and universities. She is a former President of the South Carolina Dance Association and has helped to revise state K-12 dance curriculum standards in both Georgia and South Carolina. Her choreography has been performed in Charlotte's Festival in the Park, the Piccolo Spoleto Festival (SC), Arts Alive! Festival (SC), Panoply Choreography Festival (AL), and the Denver Independent Choreographers Project (CO), and was featured this past spring in the Atlanta Fringe Festival (GA).
Dr. Ebright is a very active guest teacher, providing masterclasses and workshops in middle and high schools in the southeastern United States, as well as conferences such as the National High School Dance Festival; the SC Dancing Festival; the South Carolina Alliance for Health, Physical Education, Recreation and Dance (SCAHPERD) Convention; the Southeastern Theatre Conference (SETC), and the American College Dance Festival Association (ACDFA) Conference.
About the author: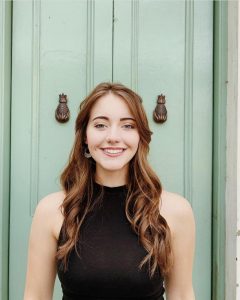 Isabel Crews is studying International Studies, French, and Communication at the College. Her endeavors with Zero Waste at her high school and her passion for sustainability led her to the Center for Sustainable Development. She volunteered as a Bonner Leader Assistant and later took the Editorial Content Intern role during the Summer of 2020. As the current Editorial Content Intern, she hopes to continue learning about sustainability and coordinating events to educate and engage the greater campus community. She also hopes to inspire others to live sustainably and get involved in the campus and the Charleston community. Outside of her involvement at the Center for Sustainable Development, Isabel spends her time volunteering with Bonner, discussing social justice, writing articles for Her Campus, exploring Charleston with her friends, and biking throughout the city.