Author: Mary Michels
What are they?
These are goods that are made of plastic that are meant to be disposed of after using them once and their lifetime is only a few minutes. Straws, cups, lids, water bottles, cutlery, bags, and to-go containers are typically single-use plastics.
Dangers to the Environment
When plastic is burned, toxic gases like mercury and dioxins are released. These dioxins settle in our waterways and crops. Because plastic is petroleum based, burning it is like burning fossil fuels, and therefore contributes to climate change. Plastic never fully decomposes; it breaks down into microplastics which are less than 5 mm long. Marine animals get entangled in plastic debris, causing them to drown or preventing them from catching prey or escaping predators. If plastics are ingested, their digestive tracts get clogged, which leads to a decreased appetite and damages the stomach lining.
Dangers to Humans
Marine animals with microplastics in their system are consumed by humans, which leads to plastic particles being present in humans. One of the many toxins that are found in plastics is diethylhexyl phthalate (DEHP) which is a toxic carcinogen. Other toxins found in plastics are directly associated with immune system issues, birth defects, and childhood development issues; one example is Bisphenol A or BPA which impedes hormonal function in humans.
Charleston's Single-Use Plastic Ban
The ordinance states that business establishments or food/grocery establishments are not allowed to provide single-use plastic bags, but must provide recyclable paper bags or reusable carryout bags as well recyclable/compostable products. Single-use plastic bags, styrofoam take-out containers, and plastic straws are banned at point-of-sale. The ordinance was passed in November 2018 and went into effect on January 1, 2020 with a brief pause during the COVID-19 Pandemic.
Solutions
A Model: Berkeley's Ban
This ordinance resembles Charleston's ban but includes a 25 cent charge to customers for the sale of a disposable plastic cup. There is also more detail in the definitions for words used throughout the ordinance as well as statistics in the opening description, providing more information and education on the topic. Charleston should take notes on this for the post COVID-19 reinstatement!
Preemption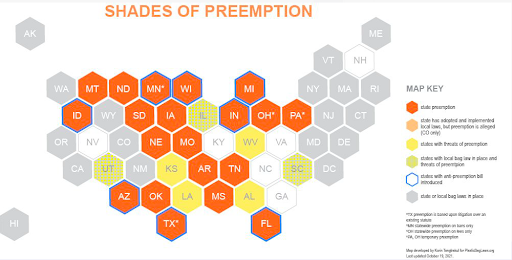 Preemption laws can also be referred to as "ban on bans." These laws minimize a state or local government's ability to formulate an ordinance that bans single-use plastics. South Carolina does not have a preemption law but is identified as having the potential to succumb to these laws. Local governments need to combat this by having a strong voice at the statewide level. 
Miscellaneous Tips
To increase the effectiveness of the ban in Charleston, the ordinance should be widely announced/publicized, which will in turn lead to engagement from stakeholders. There should be ample time for transition between announcement and implementation. The City of Charleston adopted a grace period for businesses to transition, but the ordinance was lacking in its advertisement/publication and education on the matter. Research on the effectiveness of the ban should also be monitored which can establish credibility and proof of effectiveness when moving up the chain of command to the state level with regards to the preemption bills.
About the author:
Mary Michels is a senior at the College of Charleston, majoring in Psychology B.A. and minoring in ENSS with a certificate in 21st Century Sustainable Business Solutions. She is the Climate Action Plan Assistance Intern and also a marketing intern for Surfrider. She loves the ocean and is currently focused on single use plastic reduction.
Map developed by Korin for PlasticBagLaws.org. Last updated October 19, 2021