Author: Sophie Ecklund
When Hazel heard the news that an infant in her community had passed away from cancer, her heart sank. This was the fourth baby that had passed from cancer in Altgeld Gardens, the public housing project in Chicago which was home to a predominantly black community. Along with these deaths, many of her neighbors, including her own children, were getting sick for no clear reason. This was until Hazel found out her community had not only the highest cancer rates in their region but also the highest concentration of hazardous waste sites in the nation.
Map of the "Toxic Donut" surrounding Altgeld Gardens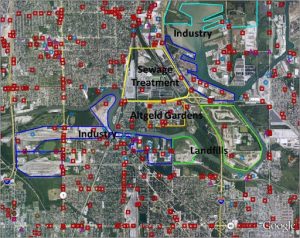 Who is Hazel M. Johnson?
Born on January 25th, 1935 in New Orleans, Louisiana, Hazel Johnson grew up in the area nicknamed "cancer alley" due to the health impacts caused by the local chemical industry. This was most likely the reason why she was the only child of her parents to survive past infancy and both parents, as they passed when she was 12 years old. Once she met her husband, John Johnson, in 1955, they moved to Altgeld Gardens in Chicago where their family grew until John died of lung cancer in 1969, although he wasn't a heavy smoker. After noticing the increasing amounts of her neighbors getting sick and the deaths of the four infants, she began to try and mitigate this by forming the People for Community Recovery (PCR) in 1979. Originally intended to advocate for repairs and beautification of Altgeld Gardens, it soon shifted into a not-for-profit organization focused on contacting government health officials and local government and activist groups to acknowledge the environmental problems surrounding her community and the environmental racism associated with it. 
The Toxic Donut
Nicknamed a "toxic donut," Hazel discovered that Altgeld Gardens was surrounded by 50 documented landfills, almost 400 industrial facilities, and around 300 underground chemical storage tanks that have leaked dangerous cancer-causing chemicals and contaminated the running water that her and other families have been using without knowing. This blatant example of environmental racism pushed Hazel to fight against these conditions and earned her the title as the "Mother of the Environmental Justice Movement." 
With Hazel as the PCR Executive Director, the organization went on to improve many things wrong within the community, including: extending water and sewage services; building a new health clinic; asbestos and PCB removal from homes; lead abatement, and a moratorium on new or expanded landfills in Chicago. She also focused her efforts on educating the young members of the community, as they were the next generation that would need to continue this fight for environmental justice.
Mother of the Environmental Justice Movement
Soon Hazel M. Johnson became a nationally recognized figure of the new environmental justice movement and was regarded as such. In 1991, she spoke as a featured presenter at the 1st National People of Color Environmental Leadership Summit in Washington, D.C and helped create the 17 Principles of Environmental Justice, which is still referred to today. More importantly, she spearheaded the call for President Bush to sign the Executive Order on Environmental Justice, the first of its kind. 
On January 12, 2011, Hazel passed away from congestive heart failure but, although she is gone, her legacy lives on to this day. In 2021, Congressman Bobby Rush introduced legislation to honor her by designating April as "Hazel Johnson Environmental Justice Month," created a commemorative postage stamp of her, and awarded her the Presidential Medal of Freedom posthumously. She is survived by her daughter, Cheryl Johnson, who is continuing her mother's work as the Executive Director of PCR and is still helping the community, improving both the environment and the education of its inhabitants. 
About the author: 
Sophie Ecklund is a freshman at the College of Charleston, majoring in both Marine Biology and English, with a minor in Environment and Sustainability Studies. She is the Green Office Intern with the Center for Sustainable Development and is in the Bonner Leader Program and Library Student Ambassadors as well. She also works as a Trail Guide at Middleton Place Equestrian Center and loves spending time reading with her dogs back home!
References:
https://www.ncronline.org/news/earthbeat/hazel-johnson-mother-environmental-justice-was-catholic
https://grist.org/equity/hazel-johnson-environmental-justice-month-chicago/
https://www.peopleforcommunityrecovery.org/our-story/legacy