Written by Bridget Stafstrom
Instagram can be an excellent resource for connecting with friends and family, keeping up with current events, and expressing your creativity. Adding alternative text to pictures is a simple way to improve sustainability on social media platforms. Accessibility plays a role in creating an environment that enhances social sustainability by ensuring more individuals can benefit from services, products, and their environment. 
Alternative text on social media platforms allows content to reach a bigger audience. It is essential for individuals who depend on screen readers, but it can also benefit all social media users. Everyone has experienced issues with Wifi or cell service that hinders their ability to load pictures. If alternative text is present, individuals can still understand the post, even without the picture. Overall, it's a simple step that can make the lives of so many easier.
Good alternative text describes the image it accompanies in a concise, detailed manner. The text should be descriptive enough for an individual to understand the image without seeing it but should not contain unnecessary information. 
You can add alternative text to your next Instagram post by following these three additional steps:
Step 1: Before Sharing your post, click 'Advanced Settings' at the bottom of the screen.
Step 2: Under 'Accessibility,' select 'Write Alt Text.' 
Step 3: Add a descriptive caption. Click 'Done' and share and post. 
Now that you know how to add alternative text on Insta, post away!
Source:
"Alt Text." Moz, moz.com/learn/seo/alt-text. 
About the author: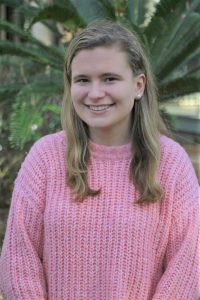 Bridget is a senior at the College of Charleston studying Marine Biology with minors in Environmental Studies and Sustainability and Political Science. She has been working with the Center since Spring of 2020 and currently serves as the Green Office Certification Program Intern. Bridget has enhanced her knowledge by taking many sustainability-related classes at the College and hopes to pursue a career in environmental policy. Bridget loves all things ocean-related and spends a lot of her free time at the beach. She is excited to help extend the Center's sustainability efforts to faculty, staff, and students around campus through the Green Office Certification Program.